We are still recovering from the mid-season finale of This Is Us.
The ninth episode of Season 3 dropped some *big* reveals and of course, left us with even more questions (in typical This Is Us fashion) about the Pearson family's past and future. After showing us Kevin and Zoe's travels through Vietnam, Randall's first public debate in his run for city council, Kate and Toby's nervous excitement for their growing family and Tess's anxiety about her sexuality, This Is Us hit us with so many big moments that Twitter dang near exploded. The last five minutes had everything: Nicky's alive and well (WTF!), Tess coming out to her parents (TEARS), Beth and Randall having a terrible fight, Kate and Toby's gender reveal cake (A BOY!) and now we pretty much know who "her" is. It was A LOT.
So, This Is Us fandom, what are we going to do while we wait for the show to come back on January 15?  Muse about the biggest questions and fan theories of course.
Here's are the three major theories everyone is talking about following the mid-season finale. Hold on to your butts!
Fan theory #1: Jack knew Nicky was still alive
Me pulling up to Nicky's to get some damn answers #ThisIsUs pic.twitter.com/z2XPNaTMDx

— Lex (@ltstlkabtlex) November 28, 2018
We've spent this entire season so far trying to figure out how Nicky died in Vietnam/if Nicky actually died at all. Turns out Nicky is alive, seemingly living alone in Pennsylvania where the WHOLE ENTIRE Pearson clan lived, for like, forever. (The audacity!) It might seem like Nicky let Jack think he was dead, but fans on Reddit theorize that Jack knew Nicky was alive, and simply wanted nothing to do with him (I already feel the tears coming).
Here's why that could possibly be true: We know there was an explosion during Jack's time in Vietnam, that may have involved Nicky. Up until this point, we see a Nicky who's clearly traumatized from the war and who has developed a drug addiction. After the explosion on a boat, we saw Jack, who couldn't locate his brother, jump into the river and swim towards the wreckage. Reddit user knuckle_cracker believe that Nicky was discharged from the army because he somehow caused the explosion or maybe harmed some of the villagers (in a previous episode, Nicky showed particular distain and distrust toward the locals).
Jack helps Nicky leave Vietnam and go home (explaining why Nicky would be able to still use his real name in the U.S.). But Nicky is either so damaged by the war, or he did something so terrible, that Jack prefers to pretend he's dead and has cut off contact with him.
Many Redditors are convinced that the Vietnamese man Kevin meets with actually knows who the woman in the photograph is, and isn't telling Kevin to protect him from the truth about Nicky.
This makes sense to me, because I really HIGHLY doubt Nicky could be living in Pennsylvania, under his real name, without Jack knowing. But how did this all happen? And when will Kevin finally meet Nicky? So. Many. Questions.
Fan theory #2: Rebecca has a serious illness 
At the end of the mid-season finale, we see a future Beth explaining to her co-worker/assistant that the family is going to see "Randall's mother." Beth is going to bring pin-the-tail-on-the-donkey, which we know is the game played at the Big Three's birthday parties when they were kids. According to William, Randall's birth mother is dead, so it's likely that the "her" is indeed Rebecca. But why bring pin-the-tale?
Two theories are floating around about what condition Rebecca is in. The first is that Rebecca is suffering from dementia or Alzheimer's disease. It would explain why the family is having a tough time going to see her (re: future Tess and Randall). It would also explain why you'd bring a game from the past like pin-the-tail, to help with her memory or to give her comfort.
The second theory is that Rebecca has some kind of degenerative illness that is impacting her ability to move, which is why she needs care. In the mid-season finale, Rebecca tells Tess that she's had body pains and aches that date back decades. Rebecca attributes the pain to keeping secrets from people she loves (keeping secrets from Jack, supposedly about Randall's birth father, and keeping secrets from Randall about his birth father being alive). But some Reddit users believe that the pain Rebecca's describing could be an illness that eventually gets worse with age.
Either way, something super sad is going on with Rebecca and TBH, I'm not sure pin-the-tail is going to help a whole lot.
Fan theory #3: Beth and Randall get divorced
The thought of Randall and Beth not being together, broke me.
I
AM
B R O K E N!#ThisIsUs pic.twitter.com/4bAUQtJUfX

— Wanheda (@MyLifeAsPookie) November 28, 2018
This is where things take a turn for the truly tragic. Based on the clues and hints the show has been throwing us, it seems that Randall and Beth might get a divorce. I am praying to the This Is Us Gods that this is just a red herring to throw us all into a panic for the next month until the show comes back. But if this theory is true, I am resigning from all television, including 90 Day Fiancé.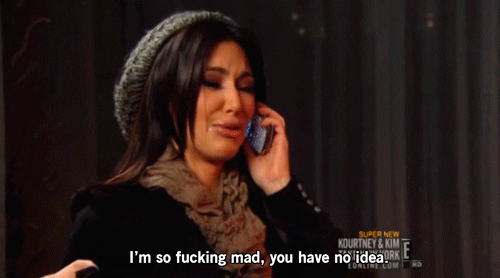 But based on all these clues, it seems like our favourite couple is definitely headed for troubled times. Beth and Randall's marriage has been on the rocks basically this entire season. Randall has consistently ignored Beth's needs, completely overlooking how much she struggled after losing her job, and then attempting to fix things by hiring her for his campaign. When it's revealed in the mid-season finale that Randall will likely lose the election, Beth sees this as a silver lining: Randall can help get his family back together. Deja wants to reconnect with her mom, Tess needs emotional support having just come out to her family and Beth needs to get back on her feet.
What does Randall do? He says "no," and that he needs to see his campaign through. Beth says he's talking to her like a politician, and she puts him on the couch for the night. Then, in a flash-forward, we see signs that Beth and Randall aren't super close with each other: Beth calls Rebecca "Randall's mother" instead of her "mother-in-law" and Randall gets Tess to call Beth, instead of calling her himself.
You guys, we need to know what happens, right now. I cannot wait until January 15 for the answers here. If anyone needs me I'll be pacing in my room until we sort this out.
Beth divorced Randall and became Debbie Allen type choreographer? Rebecca is old with Alzheimer's? Toby ain't got his ring on? And the druggie brother is still alive? I need answers and I cant wait until January?! #ThisIsUs pic.twitter.com/BfrXomtgkj

— Oh Me Oh My!🇧🇸🇧🇸🇧🇸 (@ILUHmy3boyz) November 28, 2018
Related:
This Is Us Season 3 Spoilers: The Wildest Fan Theories
This New Netflix Show is Basically This Is Us—But Legit Terrifying
If This Is Us Comes for Beth and Randall's Marriage, I Am Done.