If you're not obsessed with Netflix's reality dating show Love Is Blind...what have you been doing?! Because the series (or "the experiment," as everyone on LIB loves to call it), which follows a handful of Atlanta-based individuals as they meet, date and get engaged—within just a few days and all without ever seeing their partner—is seriously addictive. And the show—which dropped on the streaming service on February 13 and culminates on March 5 with a reunion show—came a great time; namely, during a season of that *other* fan favourite dating show The Bachelor that was the *epitome* of lacklustre (sorry, Pilot Pete).

It seems that even Bachelor nation alums agree—and want to see more of some of the now-famous LIB contestants, with former Bachelor contestants saying that some of the LIB contestants should be our upcoming Bachelors and Bachelorettes.
On February 27, season 14 Bachelorette and season six Bachelor in Paradise contestant Clay Harbor shared his pick for the next Bachelor, tweeting: "Mark from Love is Blind for Bachelor." 
Mark from Love is Blind for Bachelor

— Clay Harbor (@clayharbs82) February 28, 2020
ICYMI, Mark Anthony Cuevas, a then-24-year-old fitness instructor, met and became engaged to 34-year-old Jessica Batten. The pair forged a pretty deep connection in the pods, only to have Jessica seriously doubt her feelings and attraction to Mark once they were together IRL. (Oh, she was also *super* hung up on another contestant, Matt Barnett). In the finale of the show (*SPOILER ALERT*), Jessica said "I cannot" to Mark, leaving him jilted at the altar. He was a sweetheart who for some reason didn't seem to understand that you can't use a fitted sheet the colour of dog poo as a duvet cover, but c'est la vie.

Regardless of his bedding-selection capabilities, a lot of fans online seemed to agree that Mark would be an A+ choice for Bachelor (and seeing as the franchise is literally resurrecting contestants out from years ago, wouldn't be a total surprise), with the tweet accumulating almost 7,000 likes. And TBH, Clay may be on to something because the Love Is Blind contestants would actually be perfect as the leads of the Bach franchise. Here's why.
The Love Is Blind cast has already been on a bonkers reality dating show
While we civilians may balk at the idea of accepting a marriage proposal in the span of two months, that's all in a day's work for people in Bach nation. The show follows the lead as they meet and date 25 or more partners before whittling the group down to a single person. The hope, of course, is that the "journey" will end in a proposal (and, ideally, a televised Bachelor wedding). Did I mention this all happens in around eight weeks? Just look at newly announced Bachelorette lead Clare Crawley, who found out she's the season 16 Bachelorette on February 29, and by the air date of May 18 will potentially be engaged to someone. To say it's an accelerated timeline and truly out of this world experience is an understatement. Enter: LIB. Forget two months! The contestants on the Netflix dating show were expected to meet and propose within 10 days or less (all after spending sometimes 16+ hour days talking to each other in isolation pods without ever seeing each other), and get married a month later.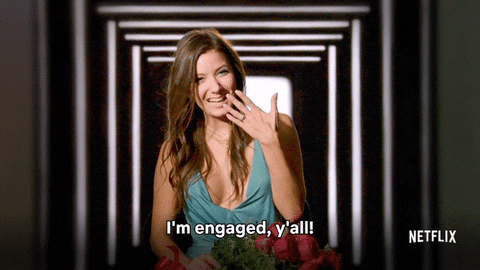 I have legitimately been on rounds of antibiotic longer than these courtships. 
Read this next: We Got Relationship Advice From Rory, the Love Is Blind Relationship Guru
So it's safe to say that any Bach lead plucked from the LIB universe would be accustomed to a truly hectic experience. Honestly, being in the Bachelor mansion might seem easy compared to the pods. 
It *actually* seems like the Love Is Blind contestants were there for the right reasons
And not only would the LIB contestants be perf because of their experience dating at warp speed, but because the Netflix dating show is so new, we're pretty sure that most of the contestants are in it for "the right reasons." Let's be honest, with more than 30 seasons of The Bachelor and Bachelorette—and the fame and spon-con that many contestants get after the show being a pretty well-known thing—it's safe to say that a lot of contestants and leads go on the show looking for more than love. There are contestants on every single season of The Bachelor and Bachelorette who are decidedly not there for the "right reasons" but rather to, oh I don't know, snag a record deal or get exposure for their burgeoning influencer career (looking at you, Jed!).
But, with LIB, these contestants entered a completely new experiment seemingly without any expectations that it would lead to something other than long-lasting love. Let's be honest, the production quality on the first season was mediocre at best; it was filmed a year and a half ago and all the couples got married at the same non-chic venue, for goodness sake! (Minus Mark and Jessica). It's doubtful there were any illusions of partnerships with Diff Eyewear and Revolve at the time. We'd bet most of these contestants were in it for the possibility of finding their one true love—and wouldn't that be super refreshing to have on The Bachelor for once?
We know the Love Is Blind cast can bring the drams the Bachelor nation…
But just because Love Is Blind contestants may have gone on the show with wholesome intentions doesn't mean they're not able to stir up the much-needed drama that's a prerequisite for the Bachelor franchises. The first season of Love is Blind gave us *a lot* to talk about: in-fighting between the women, attempted fiancée snatching, Jessica (a.k.a. Messica) FEEDING HER DOG WINE, Giannina being Giannina. Honestly, I would 100% watch a five-hour episode of The Bachelorette that featured Giannina talking about the amount of butterflies she has for each contestant. Also, you know her "meet-the-parents" episode would be hectic once her mom Milady gets involved. Plus, we know Gigi already knows how to make a dramatic exit…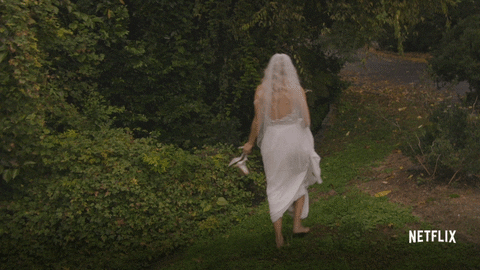 Read this next: Bachelor Peter Is Going To Ruin His Own Dang Season
But also potentially a *hint* of realism?
And arguably the key reason these LIB ding dongs would make great Bach leads? They might actually be somewhat realistic in their expectations and decisions. Yes, the show works on a similarly accelerated timeline to The Bachelor. But unlike that long-running show, LIB forgoes the over-the-top dates and two-on-ones, having the engaged contestants move in with each other and resume their normal lives to test their compatibility instead. Contestant Kelly even had to go on a work trip in the middle of filming. Compared to The Bachelor or The Bachelorette where 24-years-olds consistently dive head first into engagements with little thought about what life will be like IRL, the contestants on LIB actually took the time to consider how they their partners fit into their lives long-term, and whether or not they felt they were *actually* ready to say "I do" to someone they'd just met. Maybe it's because there was more at stake on Love Is Blind—an actual legally binding decision as opposed to just an engagement—but it feels more thoughtful and realistic. Which The Bachelor franchise could honestly use (and if we're lucky, might get a taste of with Bachelorette Clare). 
Read this next: Clare Crawley Is Our New Bachelorette!
So yes Clay, good call. Love Is Blind's Mark *should* be the next Bachelor. So, Chris Harrison: