Get ready to go Gaga. On July 9, Mother Monster herself, singer Lady Gaga, announced the impending launch of her beauty brand, Haus Laboratories.
In a video posted to Instagram, Gaga shared iconic and extremely on-brand looks alongside a diverse group of models.
We are extremely ready for this. Here, everything you need to know about Gaga's makeup line, including where to find it, the affordable price point and whether or not it'll be available in Canada.
The line is *super* Gaga
We're actually surprised it's taken this long for Mother Monster to make her foray into the world of cosmetics, considering it's such a big part of her image. Who can forget *those* 2019 Met Gala looks?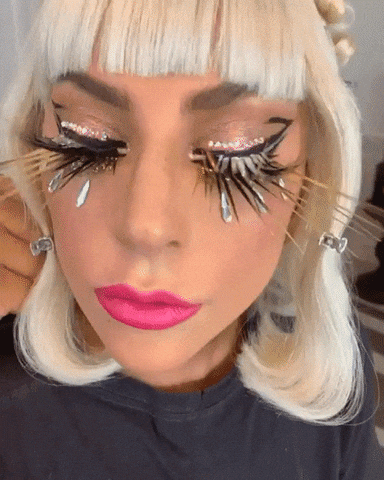 Also a big part of her look? Colour. So expect her new line to wholeheartedly embrace it.
Not only are the line's bold colours and out-there designs something you wouldn't be surprised to see Gaga rock on stage, the inspiration goes beyond just aesthetics. According to Business of Fashion, the brand draws ideas from the A Star is Born actor's early days as an aspiring singer in NYC. Pretty similar to her character in the Oscar-winning film, Gaga used drugstore makeup to create her now-iconic makeup looks.
*And* it's literally a labour of love for the singer. In a follow-up post to her Instagram account after the announcement, Gaga shared behind the scenes photos and video of her going full creative director *and* photographer for the Haus Laboratories photo shoot, even taking some of the photos for the campaign herself.
In the caption for the photo, Gaga talks about how much she invested in the brand, writing: "Between developing formulas, mixing the shades, designing the packaging and components, as well as casting the models and collaborating on styling, direction, and being the creative director, pulling all-nighters making boards that showed all our imagery and art—this launch is so very special to me. This is a labor of love and passion to be the Warhol of an artist I've always wanted to be."
We stan a super involved Queen.
There's a heavy emphasis on authenticity
As an artist who's built her entire image and career on being true to yourself—even if that means your truth is rocking a dress made of meat—it's no surprise that Gaga's beauty line would follow suit.
As opposed to some other beauty brands of the Instagram age, Haus Labs is designed as the antithesis to the filtered, face-tuned brand of "authenticity" often found on our feeds (*ahem* Kylie Jenner *ahem*). "They say beauty is in the eye of the beholder, but at Haus Laboratories we say beauty is how you see yourself," Gaga declares in a voiceover. "Your glam, your expression, your artistry. We want you to love yourself. Our house, your rules."
The promotional images, shared on Haus Labs' Instagram, show a bevy of diverse models, all rocking their own unique looks.
"Our tools were designed with artistry and versatility in mind to inspire endless self-expression and reinvention," one photo states.
It'll start with kits
As most empires do, Haus Laboratories is starting small. The first launch will include kits featuring lip-colour, liner and all-over colour. They'll be available in six different shade combinations, all for the *fairly* accessible price of $49 USD.
It's launching exclusively on Amazon
Don't expect to see Gaga's newest venture stocked alongside Kylie Jenner's lip kits at Ulta or next to Rihanna's Fenty Beauty at Sephora; Gaga is making history with her launch by being the first major beauty brand to partner with and launch exclusively on Amazon. This means that Haus will simultaneously launch in nine countries on three continents.
Of the decision to partner with Amazon, Gaga told BoF the online e-commerce site embraced her message of self-acceptance. "There are companies that see me and what I stand for and the way that I view the world, and if it's not perfectly in line with what they do…they'll be like, 'Can you just change half of the equation?' The answer is no. No deal," Gaga said.
You'll need to place your order ASAP
While the *official* launch is set for September, eager fans and makeup fiends can pre-order their little piece of Gaga starting July 15 (if you're a Prime member). Pre-order starts on Prime Day, a day full of deals. So set your clock!
Canadians can get in on the action
While we're often overlooked when it comes to launches (or concerts or pretty much anything else fun and exciting), fear not Monsters in the North.  Lady Gaga's beauty line will 100 percent be available in Canada, Amazon Canada confirmed to FLARE.
Yes, it's another beauty line—but Gaga DGAF
And, for those who think the *last* thing we need is another beauty line—Gaga agrees, but she really doesn't care. In a voice-over in the announcement video, Gaga stated: "The last thing the world needs is another beauty brand, but that's too bad."
Related:
I'll Admit It: I Was SO Ready to Buy Kylie's Skincare Line
Why Does the Media Have a Problem With Hailey Bieber Using Justin's Name?
A Year of Fenty: 5 Beauty Industry Insiders on How Rihanna Changed the Game