'Tis the season for celeb holiday songs! If you thought snow and dropping temps are the only indicator that the holiday season is quickly approaching, think again. The true sign of the start of the festive season isn't marked by the Santa Claus Parade or the release of Starbucks' infamous (if controversial) holiday cups—it's marked by the sheer onslaught of holiday songs released by our fave crooners. And throwing her (Santa) hat into the mix? Taylor Swift. The"Cruel Summer" singer released her latest song "Christmas Tree Farm" on December 6, alongside a new music video.
The song and music vid lean hard into the Christmas season, with T-Swift talking about a Christmas tree farm holding a very special place in her heart, and crooning about going to this peaceful place in her mind amid the hustle and bustle of the hectic holiday season. And to top it off, the accompanying video—directed by Swift—consists of old home videos of the singer growing up and celebrating some retro Christmases with her fam (so much grainy footage!). It's super sweet, and also, super sellable. While we're still out on whether or not we'll be blasting the tune throughout the ho-ho-holiday (thanks to some conflicting feelings about Swift herself), there's no denying that "Christmas Tree Farm" is the perfect Christmas bop—here's why.
The "Christmas Tree Farm" lyrics are easy to sing along to
Lesson one in creating a holiday mega hit? Make sure everyone can sing (or screech) along to it. There's a reason "All I Want for Christmas Is You" is such a long-lasting fan fave—mainly, people can pretty much surmise that, given the general gist of the tune, all Mariah Carey could *possibly* want for Christmas is…well, you. Easy peasy.
Also, you cannot tell me that "I should be playing in the winter snow, but imma be under the mistletoe," isn't one of the greatest rhymes of our generation. And so memorable.
And the same can be said for Swift's newest bop. Taking a cue from frenemy Justin Bieber, Swift leans into the mistletoe aesthetic, crooning: "Under the mistletoe/ Watching the fire glow/And telling me, "I love you"/Just being in your arms/Takes me back to that little farm/ Where every wish comes true." Arms and farm—genius rhyming, Taylor!
Read this next: Sorry, But There Are Bigger Issues than Coffee Cups
And of course, there's some sort of reference to love
Would it even be the holidays if there wasn't at least one reference to cuffing season? While we're all for a great rendition of "Silent Night" (preferably by Boys II Men), there's just something about declaring your love via music while twinkly lights and snow swirl around you and your lover.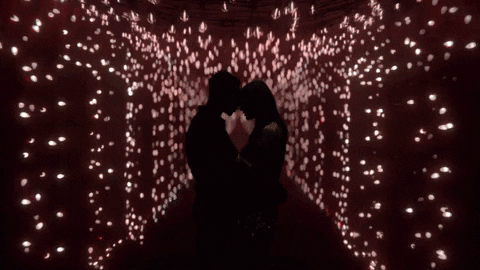 Like many of Swift's songs, "Christmas Tree Farm" makes sure to let you know that the singer is still in her feels, as she sings about "watching the fire glow" and hearing someone "telling me 'I love you,"" while being in their arms takes her back to the aforementioned Christmas tree farm.
While previous holiday songs about love have not aged *super* well (we're looking at you, "Baby It's Cold Outside"), we have a feeling that Swift's song will. Mostly because her lyrics about love have ~layers~. She's deep, folks. While her lyrics about cozying up in the arms of someone you love can be applied to a literal "Lover," and describe the feeling of home she gets when caught up in their embrace (*ahem* Joe *ahem*); it also speaks to her love for her fam, and the fact that the little ol' farm—and her home—are always with her, no matter where she is.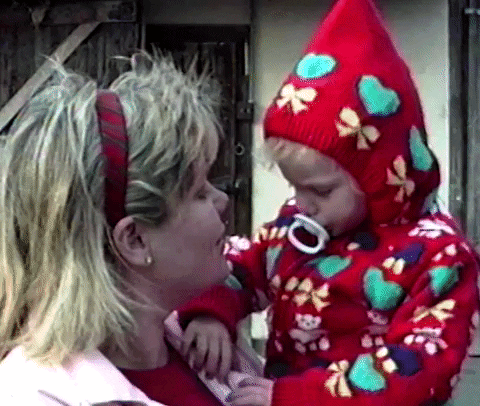 Which is actually super sweet.
The vid is full of serious nostalgia
Also super sweet? The video for the song, which is chock full of nostalgic memories from the late '80s and early '90s. Those baby snowsuits! The fuzzy camcorder footage! The bouncy swing! That wall-to-wall carpet! As a millennial, you can't tell us that you went through that whole vid without identifying with at least one aspect of Swift's childhood.
Me as a child: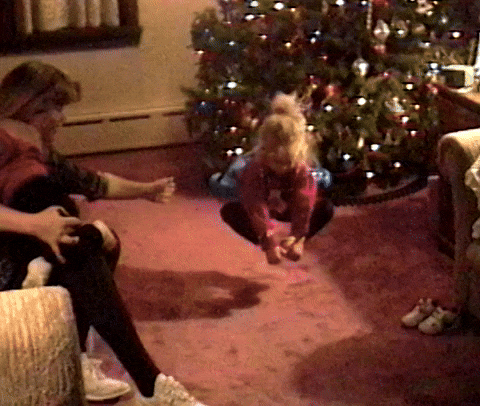 And better yet? Unlike the Kardashian Wests' weird phase where they tried to make everyone believe they were living in a 1970s porn house, this footage is actually authentic; and makes you think back to the simpler times; when all that mattered was whether or not you were going to get an Easy-Bake Oven from Santa, and not worry about whether or not you could afford to turn on your very real oven in your very overpriced rental apartment. Actually, can we bring the Easy-Bake Oven back? Could 100% defrost my pizza in there.
Read this next: The 10 Best Celebrity Holiday Albums of All Time
 And just the *right* amount of cheesiness
And, because it's a Swift song, there has to be a bit of cheese. But thankfully, she's picked the perfect season to unleash her gouda-sized talent. The holidays are the time when most of us schlubs take after the Grinch and grow our hearts three times their regular size, making room for sentimentality and corniness. Could I, in June, take the lyrics: "My winter nights are taken up by static/Stress, and holiday shopping traffic," seriously? Probably not. But come December? Those lyrics make complete sense! There is a ton of holiday shopping traffic in our local malls right now. This is factually correct! Would I normally be behind lines like: "Sweet dreams of holly and ribbons/ Mistakes are forgiven/ And everything is icy and blue?" Not typically—because I'm a stone cold, vindictive witch and this rhyming is intro-to-poetry-level at best; but the holidays make me want to believe in them. And accept them as they are. Cheese and all.
Plus, it references Taylor Swift's IRL family Christmas tree farm
If there's one thing we've come to expect from T-Swift, it's that she's not one to shy away from the personal. Whether it's leaving her infamous (and super telling) "easter eggs" throughout her vids (sometimes months in advance), or sharing details about her mom's cancer diagnosis—the singer's songs are akin to the pages of her diary.  Which is what makes this particular Christmas song so special. Swift's reference to a Christmas tree farm isn't just a fun holiday reference pulled out of the ether, but a glimpse into her personal life. Not only does the singer frickin' love Christmas, telling ELLE Taiwan in 2015: "Christmas is my most anticipated holiday," but she actually grew up surrounded by Christmas trees on an IRL Christmas tree farm, Pine Ridge Farm in Reading, Pennsylvania.
Which honestly, just sounds super festive and bright. Also, probably smells amazing.
Read this next: Wow, Taylor Swift Just Got My Respect
And Swift hammers home the significance of Christmas tree farms—as a symbol of home—in the vid for the song; sharing personal home videos of Christmases past in the Swifty household and even letting fans in on what would become a monumental moment for the singer—when she unwrapped her first guitar. We all love a good voyeuristic moment, especially when it's a wholesome one. And who doesn't want to see a mini T-Swift running around in footie pyjamas?
The answer is no one.
So don your flannel and grab a hot cup of coco, folks! It's offish the holiday season and we're planning to cozy up, bump Swift's latest tune and soak it all in.