In the best Canadian politics–global celebrity crossover news you never knew you needed, Rihanna is keeping a closer eye on Canada's election cycle than you might have guessed. On Oct. 3, fans of RiRi and #CanPoli alike were shocked, thrilled and maybe a bit confused when the singer followed New Democratic Party leader Jagmeet Singh on Instagram.
#elxn43 pic.twitter.com/uvAUiSvXji

— sasha (@sashakalra) October 3, 2019
Singh, a Sikh candidate from Scarborough, Ont., is running in the upcoming federal election in the hopes of becoming our country's next Prime Minister and with this new follower, even if he loses the election, he's kind of already won, right?
If I was @theJagmeetSingh I would have already dropped a 3 second video saying "HI @rihanna " … https://t.co/Usbb2NL4Nq

— Tiffany Ford (@TiffanyFordTO) October 4, 2019
With this follow, is the Queen of Instagram officially endorsing Singh as her fave political candidate?
TBH, an endorsement from Rihanna wouldn't be that surprising, considering the NDP party's platform aligns with a lot of RiRi's own values. Among some of the party's most popular promises are more inclusive stances on immigration (including improving foreign credential recognition for new Canadians), affordable housing, healthcare and post-secondary education and a strong position on climate change. The NDP party is also committed to building strong and vibrant communities, promising a $10-million fund towards a foundation that helps curtail youth involvement in gangs and a government that will work towards ending gender violence and discrimination.
Many of these issues are close to Rihanna's heart. September 2019 marked the fifth year that the singer hosted her annual Diamond Ball for The Clara Lionel Foundation. According to its website, the foundation, which was founded by RiRi and named after her grandparents, "supports and funds groundbreaking and effective education and emergency response programs around the world," and engages in global advocacy to improve the quality of life for young people. Specifically, the foundation focuses on giving young girls access to education and helping with climate issues in the Caribbean.
Rihanna has also been *very* outspoken about American politics in recent years, calling out Donald Trump for his stance on issues like immigration and gun reform.
Politics aside, Singh could also be appealing to the "Love on the Brain" singer as a personality, seeing as the NDP leader is seriously popular right now. In the first few weeks of the election campaign, and in response to several incidents of racism on the campaign trail (including *those* blackface photos of PM Justin Trudeau), Singh has come out on top in public and media opinion, showing himself to be a thoughtful, well-spoken and inclusive candidate.
Plus, he's just plain cool. While we'd rather take political leaders at their actions than their Insta presence, Singh's Instagram is pretty freakin' good. His visually delightful feed features photos of the PM-hopeful clad in different coloured turbans, greeting babies, meeting constituents and having fun at his February 2018 wedding. He's also so well dressed that GQ wrote an article about it back in February 2017. That's clout, baby.
FWIW, just because the Bajan singer followed Singh doesn't mean she's necessarily Anti Justin Trudeau. RiRi has been following Canada's current Prime Minister for the past few years (and continued to do so at the time of this publication). So while an "unfollow" of JT would be even *more* telling about where her political allegiance lies, the fact that she isn't following other Canadian political candidates means she's probably at least interested enough in what Singh has to say to merit a follow.
nothing but respect for my prime minister, rihanna https://t.co/99e9bhwBh6

— vicky mochama (@vmochama) October 3, 2019
As some on Twitter pointed out, RiRi might be endorsing Singh because she know's he's gonna put in that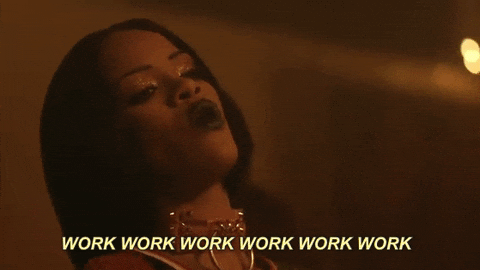 …and make Canada a better place.
FYI, according to Singh's director of communication in an email to FLARE, the PM hopeful thinks it's "pretty cool" that the singer followed him and he loves RiRi's last album, Anti.
Officially starting a petition to have Singh change his campaign song to "Diamonds" now!
Related:
Sorry, Mr. Trudeau. Not All Of Us Have the Luxury of Ignorance When It Comes to Racism
What Has Four Years Under a "Feminist" Government Done for Canadian Women?
Justin Trudeau Addressed Those Sexual Misconduct Allegations—But We're Not Buying His Response