We're well into fall and if the rapidly decreasing temps, changing leaves and abundance of pumpkin spice isn't an indicator of the change of season, Miley Cyrus's love life definitely is. Since announcing her separation and impending divorce from husband Liam Hemsworth in August, Cyrus has been living her absolute best life: working out, killing it in her career, adding to her already massive tattoo collection and hitting the dating scene. Hard. After her split, the singer was linked to Kaitlynn Carter for a six-week stint, before hooking up with current beau (and tattoo buddy) Cody Simpson in what the singer described as her own #HotGirlFall.
Here. For. It! Everyone's favourite 26-year-old "Wrecking Ball" has been in an on-and-off relationship with ex-Hemsworth for the better part of a decade, so can we let her live? And also, can we take some tips from her? Cyrus is currently epitomizing Hot Girl Fall (as defined by Megan Thee Stallion, the creator of its predecessor, Hot Girl Summer), being unapologetically herself, having a "good-ass time" and not giving a damn about what anybody says. And nowhere does this apply more than her dating life.
"I think recreational dating can be great," says Lee-Anne Galloway a dating coach and matchmaker based in Toronto. "It can be empowering," Galloway says of dating casually after a breakup or long-term relationship, "because it reminds you that there are people to meet. And, it can also be a wonderful self-esteem boost," she continues. "It's nice to feel desired, it's nice to remember that [you] will find love again." Also, whether you've just gotten out of a long-term relationship or have been single for awhile and want to try recreational dating, dating around can be a great way to figure out what you want and desire in a partner or a relationship. Kind of like trying on shoes… if shoes were a human and had emotions.
But, before we dive into our own #HotGirlFall, here are some tips to help us do it right and *totally* thrive.
Be clear—with your partners and yourself
Honesty is always the best policy, and that goes for casual dating, too. "Be clear from the beginning," Galloways advises. "Say, 'I just got out of a long-term relationship and I'm looking for something casual.'" And make sure that when people are clear with you, that you're actually listening. So if a partner tells you they're not ready for something serious, then they're probably not ready for something serious—and you trying to change that won't help you or them.
Read this next: I Have a Radical New Approach to Dating: Is This Person Worth My Time?
Don't move in with your rebound
While dating around casually can be great after a breakup, the key, Galloway advises, is to keep your relationships that way. "The trick is that [your relationship] doesn't become a mini-marriage," she says. Meaning, you don't want to date your rebound long-term, especially if said rebound is the exact opposite of your ex. "It can be easy, when feelings are hurt, to say 'I'm never going to date anyone with green eyes,'" she says, "but opposites don't always actually attract." (Or survive long-term.) If your current hook-ups last beyond a few weeks, Galloway advises to not make any big moves "for at least four seasons" to give you time to make sure you're not just committing yourself to someone for the sake of it or because they're the exact opposite of your ex.
And Laura Bilotta, a Toronto-based dating coach and author, agrees. "Take your time, go slow and listen to what your mind and body are telling you," she says of dating around. "If you jump into anything too early, you risk hooking up with the first person who pays attention to you and if that doesn't work out, you may be reliving your prior heartbreak."
FWIW, Simpson and Cyrus seem to be pretty much living together right now, so someone *may* want to pass along these tips—just saying.
Be safe
Like any type of dating, it's important to make sure you're taking all the necessary steps to protect yourself, whether that means protecting your heart or your body, especially in the days of apps which can foster a false feeling of familiarity. "The person on the other side of your dating app may seem like your soulmate, but they are still a stranger," Bilotta says. "Make sure to meet a stranger in a public place with lots of people around. Don't go to a stranger's place and don't let them pick you up until you get to know them, [and] always tell a friend where you will be and get them to check up on you during your date." And if you are dating and sleeping with different people (which is 100% A-OK), Bilotta has a simple request: "Use condoms."
Read this next: Yes, You *Should* Send the First Message on Dating Apps. Here's How
And, be aware that finding the right balance for dating might take a bit of work. The same way that app burn-out is real, so is dating fatigue. "When you start dating too much and having many options to choose from, rather than making people happy and ensuring they get what they want, the opposite can happen," Bilotta says. "Overdating can cause them stress and decision-making can become more problematic."
Self-care is super important
Which is why it's essential to know that you're good with numero uno—yourself—before taking the plunge. "Self-care is hands down the most important thing when it comes to getting back in to dating," Galloway says. Although, she notes, this is often the hardest step for people to acknowledge because it's not all face masks and mani-pedis, but doing actual emotional work to overcome bitterness or hurt from previous relationships.
"We don't want to hear that [self-care is important] because it's in our control," Galloways says. "No one else can do that for you." And a big part of self-care is making sure that you're actually over your ex and/or just ready to date. "While some say that the way to get over someone is to get under someone else, in my opinion, it's not always the best method," Bilotta says. "It's also unfair to the people you're dating to not wait until you're over your ex. After the breakup, you need to mourn the relationship and figure out what went wrong so that you don't repeat the same mistakes in the next relationship," she advises.
And you'll know when you're ready. Does the mere idea of dating make you wanna puke? Still dwelling on your ex and comparing every new date to them? Does the thought of someone asking you out make you feel kind of icky? Probably not ready. And that's totally OK.
The amount of time you take for yourself before diving back into dating is entirely up to you and your feelings around the end of your previous relationship. "You definitely need to take the time that you need," Galloway says of dating. "But the thing is that some long-term relationships end before they actually end." Meaning that we shouldn't judge Cyrus, or anyone, for jumping back into the dating scene on their own timeline—with however many partners they choose.
Read this next: 6 Tips for Getting Over a Breakup
"In dating, you shouldn't worry about what anyone thinks or says, it's about how you feel about what's going on," Galloway says. "The most important thing is to do whatever is most empowering to you." And like Cyrus (whom Bilotta describes as a big girl who can and "will do what she wants"… LOVE that!), the most important tip to having your own #HotGirlFall is to do what you want. "Comparing yourself to other people can become a destructive and depressing habit that will only affect your self-esteem," Bilotta says. "Instead of comparing yourself to others, work on being the best version of you."
So if that means taking a chic Italian vacay with your former BFF-turned lover, then doing a 180 and wife-ing up your *other* long-term BFF and posting all over social media—then go for it! It's all about how you feel.
So, in the words of Megan Thee Stallion: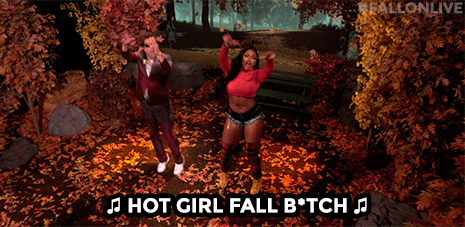 Let's embrace it!