Kris Jenner has a handle on most things when it comes to the Kardashian-Jenner fam, but it turns out she can't control the Disicks. On March 24, Mason Disick—the eldest son of Kourtney and her ex Scott Disick—went live on Instagram and the result was truly bonkers. The 10-year-old boy, who pops up in his parents' social media posts from time to time, usually clad in Dolce & Gabbana and looking entirely disinterested, made an IG account and went live with his followers for a few brief moments before deleting the account entirely.
While his time on the 'gram may have been brief, the young Disick took the opportunity to spill some serious tea on his famous family, revealing that despite much speculation to the contrary, Kylie Jenner and Travis Scott are in fact *not* back together. Stormi's famous parents reportedly ended their almost two-year relationship in October 2019 but have sparked rumours of a reconciliation numerous times since.
And it appears that, at least for now, Kylie and Travis are not dating again—at least according to Mason. "No, Kylie and Travis are not back together," the 10-year-old stated, potentially responding to a fan asking about reports the pair had reunited.
Us at home: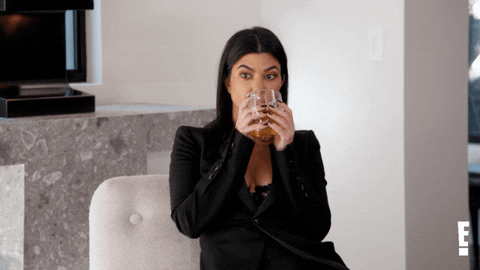 You can almost hear Kris screeching from her Calabasas compound.
Honestly, Mason is the truth teller we all need right now. And while he's on the sharing train, here are a few more questions we'd love to have answered about the famous fam. CC: Mason Disick.
WTF is up with Khloé Kardashian and Tristan Thompson?
Another one of the family's infamous on-again off-again couples is Khloé and her ex, Tristan Thompson. Their history is *very* complicated, especially after Tristan cheated on Khloé not once, but twice, the latter of which was with Kylie's BFF at the time, Jordyn Woods.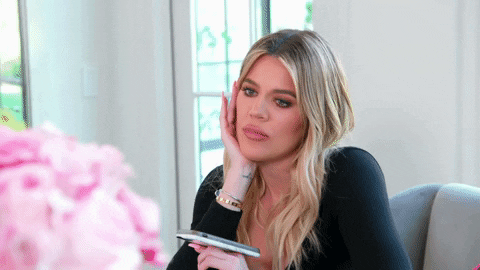 Since the second cheating scandal, Tristan has been on the outs with the fam, despite showering Khloé with gifts and trying to kiss her. But as Khlo-money said on the family's show, "Tristan might love me, whatever that means. He has no respect for me whatsoever."
Which we would 100% agree with. But with the recent news that the former couple are quarantining together (along with their daughter True), and Kim Kardashian West's recent birthday post for the basketball player, the people need to know: WTF is going on? Are they going to get back together? Tristan does have another child from a previous relationship, so why he isn't he quarantining with him? Will this be the crisis that finally gets him back into the Kardashians good graces?!
We hope not.
Read this next: Dear Kris Jenner, You're Doing Amazing Sweetie and You Deserve Way More Kredit
What does Kylie Jenner think of Jordyn Woods' glow-up?
Another thing the people need to know concerns the other party involved in the latest Tristan cheating scandal: Kylie Jenner's former bestie Jordyn Woods. ICYMI, the pair were inseparable for years (Jordyn even lived with Kylie and Stormi for a time) but Jordyn has since gone MIA, at least as far as the Kardashian-Jenners are concerned. Since her split from the fam in February 2019, Jordyn has pretty much had the ultimate glow-up; focusing on her fitness, dropping several fashion collabs and making her acting debut on Grown-ish.
And through it all, we can't help but wonder: what does Kylie think of all this? Is she too scrolling through Jordyn's feed, secretly cheering on her successes and wishing she could celebrate her on IRL? Does she look over at her new number one BFF, Anastasia Karanikolaou, and wish she was Jordyn? Or does she seriously just not give a damn?
Mason…fill us in, dude.
Does Kylie Jenner have a lab of clones?
By now it's pretty much common knowledge that many of the Kardashian ladies absolutely love to surround themselves with women who look a lot like them. But with Kylie, it's next level. Seriously, her friends look so much like her it's eerie.
For the record, none of the above women are Kylie—she's not even in that photo! But you'd never know.
So real talk, Mason: Does Kylie's Calabasas home have some sort of Stepford Wife mini-me manufacturing plant in the basement? A place where—alongside her lip kits—King Kylie can also pump out some exact replica friends? You can't tell me otherwise.
What do Kim Kardashian and Kanye West even talk about?
Honestly, this is the most important question we need answered. What in the actual heck do Kim and Kanye talk about? Watch any social interaction between the two and tell me that it doesn't seem like they've never had an actual conversation before.
At this point I'm *very* confident in assuming they only converse about Kanye's latest Yeezy drop and what Kim should wear that day.
Read this next: From Jordyn Woods to Lady Gaga, How We Talk About Cheating Matters
Is Kourtney Kardashian in love with Scott Disick?!
TBH, we don't need to even have Mason spill the tea on this question, because we know the answer: Yes, but she's been hurt too many times by him and is unable to see it and let herself be vulnerable.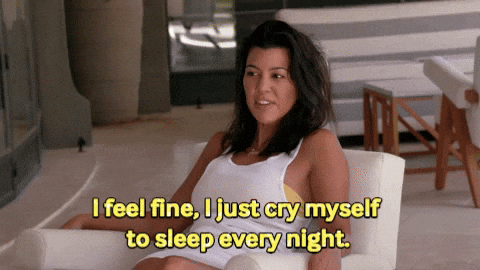 Thank you for coming to my TED Talk.
Can I be Stormi's BFF?
This is for personal reasons, but I need to know if Stormi is currently accepting friends and if I can be one. Because, who wouldn't want to be BFFs with this cutie!
Mason, SPILL. THAT. TEA!
Read this next: This Is What Happens When You Kross a Kardashian