"Blessed be the fruit" to literally everyone—except Kylie Jenner. The lip kit mogul and apparent dystopia stan is in hot water after throwing a *very* questionable birthday party for her BFF, Anastasia Karanikolaou. Over the weekend, Jenner gave her 137 million Instagram followers a behind-the-scenes look at the celebration, where Karanikolaou was fêted with a The Handmaid's Tale-themed party.
For those unfamiliar, The Handmaid's Tale—a 2017 Hulu series based off Margaret Atwood's 1985 novel of the same name—depicts a dystopian society in which all women have been stripped of their rights, and some, selected based on their fertility, are subjected to repeated rape and forced pregnancy. So, super fun stuff.
Can someone please reassure me that "Kylie Jenner's Handmaid's Tale–Themed Party" is a phrase I hallucinated on this festering grease trap of a hellsite

— andi zeisler (@andizeisler) June 10, 2019
The bash did the absolute most in an effort to bring Gilead to the hills of Calabasas. Per Jenner's Instagram story, the party featured employees dressed as Marthas (infertile women who work as domestic servants), Handmaid costumes for all the guests and a bevy of libations, including "Under His Eye Tequila" and "Praise Be Vodka." It also featured *lots* of videos of Jenner and fellow guests like Sofia Ritchie posing in their costumes for selfies and mirror pics.
Because nothing says happy birthday like literal forced labour and systemic sexual assault!
We're just like…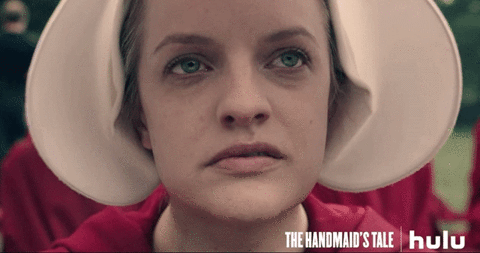 Because, seriously. Why, Kylie? Why?
The makeup mogul faced some serious backlash online. And while the internet can sometimes be too hard on the KarJenner clan, purely because they are the KarJenner clan (CC: Kim Kardashian West working towards becoming a lawyer), this time, the criticism is warranted. Because not only was Jenner's party insensitive AF, it also seriously delegitimizes the IRL impact of the show and the statement women are trying to make by utilizing it.
It's super inappropriate
While we fully believe that, as Jenner pointed out in an Instagram caption, The Handmaid's Tale is her favourite show, you'd be totally within your rights to assume that she hasn't actually seen it. And that's honestly giving her the benefit of the doubt. Because if she actually *is* an avid fan of the show, then WTF?
This wasn't a fun Grace and Frankie vibrator-themed bridal shower (which, sign me up), or a Stranger Things Halloween bash. What makes Jenner's party so infuriating are the real world parallels between the meant-to-be distant future of Gilead, and the world we're living in right now. They're scary similar.
Kylie Jenner throwing her friend a Handmaid's Tale themed birthday party complete with robes, Gilead flags, "Praised be" vodka and "Under his eye" tequila is so tone deaf, at any time, but especially when women's rights and autonomy are particularly under attack. Disheartening.

— Ana María (@anamgom) June 9, 2019
The show was, coincidentally, released less than five months after President Donald Trump was elected into office in November 2016. Since then it has become somewhat of a mirror to the policies implemented and accesses restricted under the Trump administration, many of which revolve around abortion and women's access to reproductive health.
Kylie Jenner is having a party themed after the Handmaid's Tale…..so…..who's gonna tell her that her party is literally celebrating female enslavement for their biological reproduction??

WHO IS GOING TO TELL HER

— mirandaaithi (@mirandaaithi) June 9, 2019
In 2019, lawmakers in several states across the United States began what can only be described as a war on women's ability to access abortions. While abortion is still technically legal in all states, it's becoming increasingly difficult to access them with the implementation of extreme abortion bans in states like Alabama, Louisiana and Missouri. In May, Alabama passed the most restrictive abortion law in the country, a law that could punish doctors who perform abortions with life in prison. The law only allows exceptions "to avoid a serious health risk to the unborn child's mother," for ectopic pregnancy and if the "unborn child has a lethal anomaly." An additional amendment to exempt rape and incest victims failed.
Shortly after, Louisiana became the eighth state to pass a similar law, outlawing all abortions after a "fetal heartbeat" can be detected. One of the bills many problems? According to The Cut, cardiac activity can be detected in the embryonic stage (around five to six weeks), long before most women even realize they're pregnant. In essence, this law restricts *any* individual from accessing an abortion at all.
And it's not just an American thing; in Canada, the anti-abortion movement is gaining newfound momentum, largely powered by young members of Gen Z.
Wherever it's happening though, attempts to restrict reproductive freedom bear a startling similarity to Gilead, where abortion is outlawed and doctors who provide said services are targeted and persecuted (sound familiar?). And in both real and reel life, these decisions are made—and women's bodies controlled—by white, conservative men.
Women's bodies get policed on a daily, some states are trying to ban abortion, yet Kylie Jenner thought a Handmaid's tale theme party was a good idea pic.twitter.com/W80sm0RMpn

— Ilke Nackerdien (@ilke_zuleika) June 9, 2019
In addition to abortion rights, we're also living in a time when women are starting to speak out and speak up about systemic sexual assault in several industries. And in the wake of #MeToo, when we're starting a cultural conversation about the rape and ownership of women's bodies across the globe, making light of a show that *heavily* deals with these themes, often in a scarily realistic way, just doesn't seem right.
As freelance writer Katie Underwood pointed out in a June 7 pop panel for CBC, the cultural impact of the show is its "uncanny ability to mirror reality across the United States."
All of this to say that the world of Gilead feels seriously nigh; a factor that makes Jenner's party all the more upsetting. A lot of the imagery depicted in the show as a precursor to Gilead's current reality looks like something straight off of the nightly news. Depictions of protests for women's choice, restricted autonomy of women and violence against the LGBTQ community, are ripped straight from IRL headlines. In many ways what we're living in now is the precursor to Gilead. It's too close for comfort. With that in mind, it seems egregious to celebrate a state that  The Handmaid's Tale has shown is closer than ever.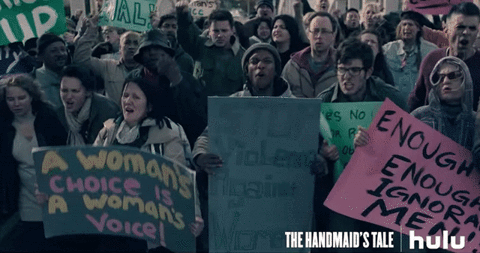 Read the room, Kylie. And FYI, the room is Alabama, and we're all screwed.
It shows her privilege
Jenner's ill-advised bash isn't only insensitive to the political climate, but of Jenner's place in the climate as well, i.e. privileged AF. Like many of the Republican law makers enacting these archaic AF laws, Jenner comes from a similarly advantageous economic position.
Because who doesn't want a birthday party themed in a universe where women are raped, beaten, and forced to have unwanted children. A world where queer women are murdered or forced to undergo female circumcision.

Sounds like a great party to be at.

This is white feminism. https://t.co/RHLxDpjTBn

— Raelee Puckett-Sharpless (@raeleejaq) June 10, 2019
Women experiencing poverty account for the majority of abortion patients in the United States and are five times more likely to have an unintended pregnancy than women in higher socioeconomic statuses. This disparity is only exacerbated with the passing of these draconian laws, with limited clinic access meaning that women have to often travel out of state to access what *is* a civil right—at cost to themselves.
Whether or not she acknowledges it, access to abortion is something the mogul will always have access to, regardless of these laws. And to flippantly turn something like The Handmaid's Tale—and everything it stands for—into a section at Party City overlooks the actual implications of these laws and the barriers real women face to access a human right.
Women like @KylieJenner will never lose bodily autonomy & access to abortion care. Restricting legal #abortion access & using religion to subjugate #Women & #LGBTQ folks is all about keeping the rich & powerful rich & powerful. @MargaretAtwood's #HandmaidsTale isn't a joke.

— Jess Phoenix 🌋🏳️‍🌈🤠 (@jessphoenix2018) June 10, 2019
It delegitimizes the power—and symbolism—of the show
Arguably the most egregious part of Jenner's party was the costumes. Since Trump's election, women in red cloaks and white bonnets have popped up at rallies and protests across the world. From rows of hooded women standing outside of Brett Kavanaugh's Supreme Court confirmation hearing to anti-Donald Trump protests in London, U.K., the outfit has become synonymous with female restriction and rebellion—a silent but strong sign of mistreatment. Or at least, they have been. In the same CBC Pop Panel interview, freelance writer and FLARE editor Stacy Lee Kong commented on the effectiveness of these outfits and the show itself, as an effective tool for shaping messages and opinion. But, she conceded, the imagery from the show is no longer as effective as it was when the series launched two years ago. "Early on it felt really clever, it felt like this is a really perfect encapsulation of how we feel the world is going to go," Lee Kong said. "Now that the world has gone that way, it doesn't feel as clever."
And the same can be said for the use of the iconic red cape and bonnet, which has undergone the familiar arc from sign of resistance to sexy Halloween costume, as people continuously co-opted it for their own use. (No, seriously—it was a sexy Halloween costume.) By using the cape and bonnet for party purposes, Jenner similarly delegitimizes the power behind the outfit, and everything it has previously stood for as a symbol of activism.
It's also just not a good party idea
Political and social implications aside, how about the fact that attending a Handmaid's Tale themed party just sounds… not fun? The KarJenner clan are known for their epic and epically over-the-top bashes, usually featuring a photo booth, excessive floral arrangement and *lots* of Instagram content. And Jenner is usually leading the pack. Who can forget the over-the-top bash she threw for her daughter Stormi's first birthday in February? "Stormi World" seriously gave Coachella a run for its money, and the mini mogul-in-training probably won't even remember it.
While everyone *should* be talking about women's access to reproductive healthcare, TBH that's the last thing I'd personally want to do at my birthday. And I 100% wouldn't want to be running in itchy cloaks with an oppressive gin cocktail in hand.
Sipping on the patriarchy may sound like a good time, but it'll definitely give you the worst hangover.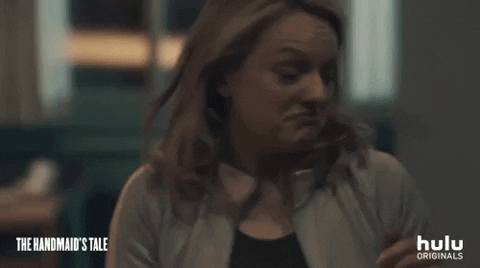 Related:
The New Handmaid's Tale Trailer Has Us Excited/Freaking Terrified
Why Are So Many GenZers Joining Canada's Anti-Abortion Movement?
How Canada's Anti-Abortion Movement Plans to Swing the Next Federal Election