Heidi Klum infamously won Halloween 2016 when she hired an entourage of actors to go as doppelgängers of the model. While the lewk was more eerie than scary, this Halloween, Kylie Jenner and her group of friends have us straight up terrified. Because, folks, all of Jenner's BFFs look like her actual clones—and this isn't a Halloween costume.
The world was first alerted to the creepy similarity between Jenner and her friends when photos emerged from a Halloween party thrown by Jenner's official BFF, Anastasia Karanikolaou, and *her* friend Kelsey Calemine. The photo, which shows a group of Calabasas ladies dressed as Playboy bunnies, looks like the usual MO for the lip kit founder: pouty lips, contour to the heavens and a sexy pose.
Except for the fact that Jenner isn't even in this photo. That second girl from the left? Yeah, not Stormi's mama. That's Calemine.
When did all of K*lie J*nner's friends become her clones? pic.twitter.com/UuOAucy6o3

— Alyssa Vingan Klein (@alyssavingan) October 30, 2019
If you're shook, you're not alone. Because the similarities between Calemine and Jenner are *super* freaky. Tell me you did not look at this and immediately think it was Jenner recreating her Playboy shoot.
        Read this next: This Is What Happens When You Kross a Kardashian
Aside from the mega similarities between Jenner and Calemine, the whole group in general looks like they just graduated from a night class entitled: Kylie Jenner 101. But we shouldn't be that shocked. Because this isn't the first time that Jenner and her pals have leaned into the lookalike trend. TBH, Jenner and current BFF Karanikolaou are known for matching each other in pretty much every way, often rocking hers-and-hers versions of  the same outfit.
And we have so many questions; like, is Jenner trying to create her own mini army? Here are all our guesses.
This is all an elaborate lip kit promo
The Kardashian-Jenner fam, if nothing, are savvy businesspeople. And there's nothing they love more than a good #twinning promo shoot. Kanye West pretty much created a battalion of Kim Kardashian Wests for the 2018 promo of his Yeezy clothing line, sending celebs like Paris Hilton onto the streets of Hollywood dressed as his superstar wife.
More recently, an October 29 promo for KKW's newest, soon-to-be-launched fragrance featured images of Kim, Khloé and Kourtney looking like triplets. Khloé even went so far as to eschew her now-trademark blonde locks for a darker 'do.
And Jenner has pretty much cemented her cosmetics brand with imagery of herself and her sisters looking like twins.
So maybe this is the same? Perhaps Kylie Cosmetics is going to roll out an entirely new BFF line to help us forget about the disaster that was the Kylie x Jordyn line? Honestly, we need a marketing prof on this ASAP!
        Read this next: Why Am I So Conflicted About Kylie Jenner's Wealth?
It's for protection
Jenner *is* the youngest self-made billionaire on Forbes' 2019 list, so could we really fault her for building up a brigade of lookalike decoys for protection? Perhaps, fearing assassination, Jenner is trying to ensure that, should she be exiting Kylie Cosmetics headquarters under duress, a potential attacker would enter the underground parking and be so discombobulated by five Jenner lookalikes, that they'd just leave. The empire would remain intact.
If it worked for model Alexis Ren in the "South of the Border" music video, it'll work for Kylie Jenner and her lip kit empire!
Jenner is going for world domination
One could argue that the Kardashian-Jenner family has already taken over the world; what with 17 seasons of their hit show under their belt, several additional shows airing on E! and growing empires in the beauty and fashion industry. But, maybe Jenner is trying to take it to the next level. Could she be taking a cue from Austin Powers and creating an army of Kyle Fembots to literally run the world?
If we're being honest, at this point I'd much rather have this successful business woman as the commander in chief of our neighbours to the South than the current unsuccessful businessman running it.
She's just super narcissistic
Aside from world domination, this seems like the likeliest of scenarios: that Jenner, super hyped up on lip fillers and her billion-dollar empire, is just a huge fan of herself. And what better way to celebrate you, than to have those surrounding you entirely emulate your greatness (or at least your aesthetic)? Jenner's group of friends are like *that* Spider-Man meme come to life.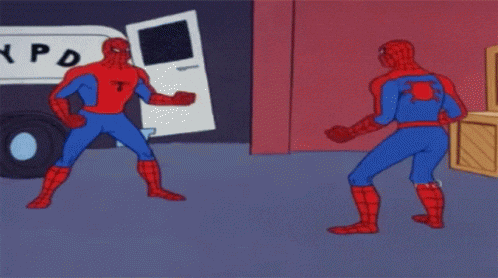 And she comes by it naturally. Not only do the rest of the Kardashian-Jenner clan go for the double-vision when it comes to ads, but they love it IRL, too. In an October trip to Armenia, Jenner's older sisters, Kim and Kourtney, put their twinning on full display, rocking matching dresses and jewellery.
        Read this next: I'll Admit It: I Was So Close To Buying Kylie Jenner's Skincare Line
This is a fam that clearly loves to see their likenesses all day, every day. We're just wondering what Jenner's friends get out of this?