The Kardashian/Jenner empire may soon be down one employee—at least if I have it my way. On a December 8 episode of Keeping Up with The Kardashians, the famous fam addressed the possibility of unemployment when Kim and Khloé Kardashian threatened to fire big sis Kourtney from the long-running show over uneven workloads and privacy issues.
Talking to the camera during Sunday night's show, Kim said, "Our job is being open and honest and sharing a lot of ourselves. And it just seems like for the past few years now, Kourtney really hasn't been open about her personal life on camera." And, Kim said, every day her sister isn't filming, she and Khloé are left to pick up the slack. "If we're not sharing our lives, then, what is the show?" Kim asked.
While Facetiming Kourt—who was at home taking a cooking lesson with her kids—KKW offered a proposal to her older sis, saying: "We have a proposal for you. It starts with an F and ends with D," (which fans took to mean "fired"; Kim later confirmed this was true). For her part,  Kourtney replied with, "I'm down," before promptly ending the call and texting that she was crying and felt disrespected in front of her children. Which, if I'm being honest, is a bit of a stretch; there's no way Penelope knew what in the hell was even going on, she was too busy getting excited over her Moroccan food.
"She doesn't want to show up, she doesn't want to work, she has too many fucking boundaries," Kim later said of her older sis, "she's out."
And my response to Kim's threat of firing?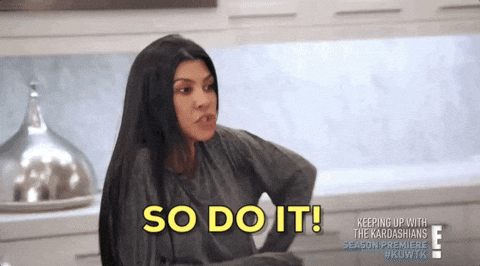 Because folks, here's the cold hard truth: Kim Kardashian should fire Kourtney.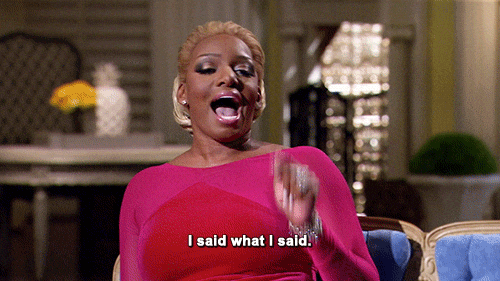 Here's why.
This back and forth has been going on for awhile now
If anyone tuning in to the latest episode of KUWTK was shocked by the recent back-and-forth between the famous sisters—then you're obviously not a KUWTK fan. Because the truth is that questions around Kourt's work ethic and dedication to the show is nothing new. The mom-of-three has been flip-flopping between staying on the show and leaving for *years* now. But the chatter has really gone in to overdrive in 2019. In an October episode of KUWTK, Kourtney revealed to Khloé that she wouldn't care if the show ended. In the same episode Kim threatened to fire the eldest sis. (Should I seriously keep a tally?) And in a November interview with Entertainment Tonight, the mama and founder of Poosh revealed that she's planning to step back from the show to focus on being a mom.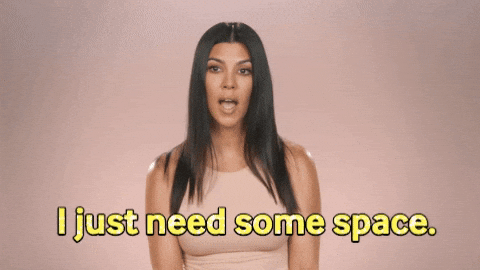 "I mean, every day is different," Kourt said in a September 19 interview on The Real of her plans to leave the show. "At the current moment I'm very happy and into my blessings and feeling really good , but I definitely have my moments where [I doubt it]," she said.
Read this next: Kourtney Kardashian Thinks People Are Hating On Her for Being a Mom
And while I'm thrilled that Kourt was happy and feeling confident in being on the show then (in an interview that would have been taped after all the current eps of KUWTK were filmed), all of this back-and-forth is giving fans whiplash. Seriously girl, just make a decision! At this point, Kourtney's main storyline on KUWTK (and, TBH, the theme of the show) seems to be "everyone fights bitterly over whether or not Kourtney will leave the show;" a theme that gets super played out the fifth time you've seen it in a single season. I come for the Stormi being cute AF content, not for footage of three grown women bickering over whether or not they want to leave the multi-million dollar show that everyone's currently watching them on.
And it's gotten Kourt in to some trouble with her fans
And this constant bickering—and Kourtney's comments around leaving the show—has gotten the Poosh founder into some seriously hot water with fans over the past year. Since she really started leaning in to the idea of leaving the show, Kourt has espoused that she wants to leave because being a mom is her "priority." In August, the famous mom was in the spotlight after responding to Instagram comments on some of her vacation photos from fans who said she doesn't work. Commenting on a gallery of vacay pics from Kourt's summer trip to Idaho with her kids, Instagram user @kimdashianwest wrote: "Kourtney, this is why ppl say u don't work, girl." The Idaho trip came on the heels of *another* trip Kourt took with her fam, and a year after Kim and Kourtney publicly fought over the family Christmas card; a truly iconic exchange in which KKW chastised her sister for being "entitled" and difficult despite the fact that she didn't have any businesses or commitments beyond the show.
"We all have our priorities. So I'll be making memories with my kids and amazing people while living my life to the absolute fullest," Kourtney responded to @kimdashianwest.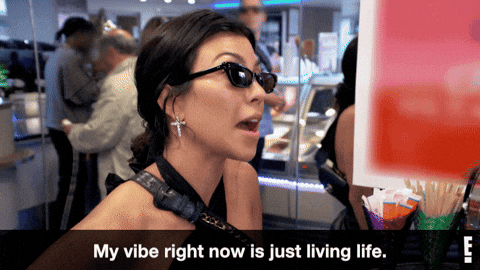 Which is not the response most people were looking for. Mainly because it failed to recognize the fact that her ability to spend time with her kids and make them a "priority" is bred from a place of immense financial and societal privilege—fostered by the success of the show and fans like @kimdashianwest—and is something regular parents literally can't afford to do. So labelling spending time with your children as a "priority" over work, is seriously out of touch and belittling to the people who have to hustle to do both, often at the cost of one or the other.
Read this next: Hey Khloé, Living With OCD Is Nothing Like Your Series 
And the same flippancy can be applied to Kourt's comments over the show in general. It's amazing to be "into your blessing," as she commented on The Real, but TBQH, I can't get over how privileged it is to view success and money in such a take it or leave it way. The only reason she can choose whether or not to be "into" or "not into" her blessings (ie: money, fame, security), is because of her privilege. She knows that she could step away from the show and still be financially secure.
Kourtney can't have it both ways
The fact is that, whether she likes it or not, Kourt can't have it both ways. While I do feel to an extent for celebs who are thrust into the spotlight and relegated to the role of "role model" without their consent, there's a difference between Rihanna not wanting people up in her business and Kourtney talking about her right to privacy; and that's that Kourtney—and the whole Kardashian family—have literally built their empire on sharing their lives with millions of audience members. Is it exactly fair? No. But is it exactly what they signed up for? Yes.
And by continuously appearing on the show, season after season, Kourtney is choosing to put herself back out on that public platform, accepting everything that comes with it.
Sorry Kourt, but you can't have it both ways. You can't continue to make your money off of sharing your life with fans without actually following through—or continuously complaining about it on camera. It's not fair to your loyal followers.
And, TBQH, she'd probably be happier off the show
Honestly, it's not fair to yourself either, Kourt. If anything has become crystal clear through the countless Kardashian sister on-camera fights about this issue, it's that Kourtney isn't into the show and what it entails, and it doesn't make her super happy. It's also crystal clear that she's not going to make the decision to leave herself. (IDK, maybe her $4.5 million salary has something to do with it.) So maybe being fired is exactly the prompt she needs to spread her wings and do her own thing.
Read this next: 10 Times the Kardashians Broke the Internet the Past Decade
2019 already gave us Kourtney's first foray outside the famous fam, with the launch of her lifestyle brand, Poosh, so perhaps a good 'ol kick in the rear off our screens will give her the confidence and permission to launch her next venture. TBH, it'll probably be a line of Calabasas-inspired crystals, but only time will tell.
Kourt, you have the right to live your life…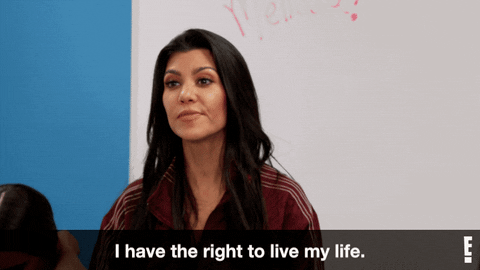 …so stop talking about it and go actually do it.