John Legend was named People Magazine's "Sexiest Man Alive" for 2019, an honour that holds absolutely no weight but we still love. The announcement on November 12 came with some seriously steamy photos of Legend. Legend's wife—the hilar Chrissy Teigen—was more than happy to share her hubby's new accomplishment; and why wouldn't she be?
my secret is out. I have fulfilled my dream of having boned @people's sexiest man alive!! an honor!!!!! pic.twitter.com/xu7ygnhOZk

— christine teigen (@chrissyteigen) November 13, 2019
That smirk! That brow! The undone tie! I love it all!
While I'm *thrilled* for Legend and the newest honour he can add to his collection, some on the internet weren't so pleased; with many on Twitter questioning whether or not the singer is actually sexy enough to hold the title. And TBH, everyone needs to STFU. Because the truth is, Legend is the only man for the job. Here's why.
He's talented and ambitious
You can call Legend a lot of things, but untalented isn't one of them. The man can sing! Not so sure? Just ask any one of his 10 Grammys. The musician has become well-known for pumping out ballads that are mainstays at both weddings, and in the bedrooms of heartbroken lovers everywhere. In addition to his 15-year-career in the music industry, Legend is also one of only 15 people ever to receive EGOT status; meaning he holds an Emmy, Grammy, Oscar and Tony award. That's *really* impressive, folks. (In fact, with Sexiest Man Alive, he's offish an EGOTSMA now.) Lea Michelle is shaking!
And he just keeps working. As if that's not enough, since February, Legend has been a judge on the singing competition show The Voice, mentoring young up-and-coming musicians towards super stardom.
Not to mention super unproblematic
And if his raw talent isn't enough, the fact remains that Legend remains one of the potentially last of our unproblematic faves. As men and women rightfully fall out of favour for some horrible behaviour or another, it truly feels like no one we love is safe from being a garbage human. And then there's Legend. Most recently, in celebration of the holiday season—and in the wake of the #MeToo movement—Legend joined forces with Voice co-judge and friend Kelly Clarkson to release a new version of the controversial "Baby, It's Cold Outside."
The song, which was released in the beginning of November, replaces some of the more problematic lyrics like "What's the sense of hurtin' my pride?" and "Baby don't hold out" with affirmations of "It's your body and your choice." And you know what? Consent is super sexy.
Also, Legend just genuinely seems like a super nice guy. In a 2017 interview with Cosmpolitan, he opened up about communication in his marriage and supporting Teigen when she decided to cut back on drinking, saying: "I just want to support [Teigen]. I want her to be happy and to live the fullest, most awesome life she can, and I want us to do it together. Whenever she sets her mind to anything, I always tell her, 'I want to support you and help you do it.'"
        Read this next: Chrissy Teigen Just Inspired Me to Start Correcting People Who Say My Name Wrong
And a family man
Listen, there is a lot to be said for a dad (who's not your dad) being sexy for being a family man. You know he's wifed up and you're into it in a "I don't want to break up a marriage but merely admire how awesome of a father and husband you are" kind of way. From #Zaddy to dad bods, father figures are having a moment in pop culture, and Legend is peak dad. From posting *tons* of photos with his adorbs kids…
To appreciation shots of his gorgeous and badass wife…
Legend is clearly *thrilled* to be a family man, and he doesn't care that he might get flack for it. In the same 2017 interview with Cosmo, Legend opened up about his devotion to his wife, and comments that classified it as "uncool" (which, who seriously said that?). "I don't want to present myself as the 'perfect spouse' and I don't want to present our relationship as the 'perfect relationship' because I don't think anybody meets that definition," Legend said. "However, I don't mind being known as somebody who's devoted to their wife. I am devoted to Chrissy. And when I write about [my commitment to her], it's me being authentic. I think it should be cool to be a good partner, a good spouse, a good father, and/or a good parent. If I'm one of the people who helps make that cooler, I think that's great."
*swoons*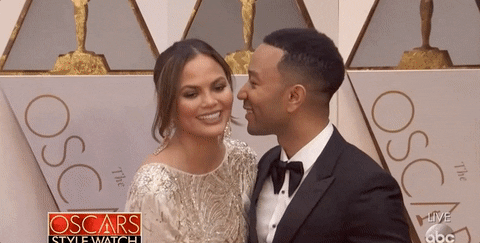 The Legends are pretty much America's first family. (Sorry, Kardashians!)
He's not afraid to speak his mind for what matters
But Legend isn't just talent and a nice suit. The singer, alongside Teigen, has become known for speaking out and supporting causes close to his heart. In addition to headlining benefit concerts and festivals dedicated to social justice, in 2015, Legend led a nationwide "listening and learning" tour in prisons and immigrant detention centres about problems in the U.S. criminal-justice system. He frequently speaks out about racial injustice, launched a documentary series spotlighting activists in America and has spoken widely about the need for political activism under the Trump presidency.
And he's even burned bridges in the name of his political beliefs. In April 2018, Legend strained his relationship with long-time friend and career collaborator Kanye West, after the "Preach" singer cautioned West against closely associating Trump, especially considering the "harm that Trump's policies cause, especially to people of colour." West made these texts public.
In an October interview with Vanity Fair, Legend opened up about the state of his friendship with West now, saying: "'I think what was always challenging about it was Kanye has never been political. I don't think he knows one way or another what policies of Trump's he likes. He's just kind of embraced Trump's blow-it-all-up spirit and the energy of himself being countercultural in supporting him."
He's funny AF
And because he's not *all* serious, Legend also has a legendary sense of humour. The singer is continuously poking fun at himself; whether it's by acknowledging his resemblance to Arthur the aardvark…
Thanks to #GoogleDuo, my stylist is always on-call. #ad pic.twitter.com/UqrysVpBYC

— John Legend (@johnlegend) April 25, 2018
Posting drunken vids of himself serenading randos while wearing a onesie with his face on it…
Or even making fun of his newest title.
1995 John would be very perplexed to be following 2018 @IdrisElba as #SexiestManAlive. Hell, 2019 John is about as equally perplexed but thank you @People for finding me sexy. I'll take it 🤓 pic.twitter.com/Gw1la5Ebv4

— John Legend (@johnlegend) November 13, 2019
Love a man with a funny bone.
        Read this next: Victory! Donald Trump Has to Unblock Chrissy Teigen on Twitter
He's actually hot
Another reason Legend is perfect for the title? Folks, he is actually sexy as hell.
No shade to 2017's "Sexiest Man Alive" winner Blake Shelton, but let's be honest; in 2017 People was *obviously* pandering to the country music demo. Because, Shelton was not it. Excuse me, but it's pretty much a scientific fact that any person who un-ironically has a barbed wire forearm tattoo with bear tracks…is not sexy.
I don't make the rules, I just enforce them.
Also, have you seen this photo?! It's practically oozing sex appeal.
I, for one, would love to see former SMA winner Shelton and his beau, singer Gwen Stefani, try to pull this off with even half as much sexiness. I am very clearly into this. This is so freakin' hot!
Even with his clothes on, Legend's whole vibe makes me want to rip off said well-tailored suit.
If he looks like Arthur, then I am clearly into aardvarks.
        Read this next: Chrissy Teigen's Sweet Tribute to Her Son Is the News You Need Today
We get to see Chrissy Teigen react
Honestly, this is probably the number one reason Legend deserves this award; because it allows the rest of the world to bask in Teigen's commentary on it. Since Legend's newest title was announced, his wifey has been truly living; offering us mere plebes endless content by trolling him and giving us minute-by-minute updates on the goings-on of the world's sexiest man alive.
the sexiest man alive just made me a ham sandwich

— christine teigen (@chrissyteigen) November 13, 2019
Unfortunately for Legend, as of publication, his kids did not seem to care.
The kids…do not care pic.twitter.com/kFTp6CyHI3

— christine teigen (@chrissyteigen) November 13, 2019
For her part, Teigen has changed her Twitter bio accordingly; it now reads: "de-motivational speaker currently sleeping with people's sexiest man alive."
Love that for her.