On July 11, rapper and music producer Jermaine Dupri made a whole lot of enemies when he decided to speak out about what he saw as a shortcoming when it comes to the hip-hop community: female rappers. In an interview with People Now, Dupri slammed today's female rappers, calling them "strippers rapping." If that isn't offensive enough, Dupri also basically said they have no creativity or talent. "I feel they're all rapping about the same thing. I don't think they're showing us who's the best rapper. For me, it's like strippers rapping and as far as rap goes I'm not getting who's the best," Dupri said.
Jermaine Dupri Believes Da Brat 'Broke the Mold' for Female Rappers #PeopleNow https://t.co/kK2z0Jppp1 pic.twitter.com/wSk6Alo5tH

— People (@people) July 11, 2019
And all we have to say is: Are you dumb? And also, have you ever heard a man rap? They legit *all* rap about the same thing, mainly: money, women and their IRL eggplant emojis.
Dupri should know better than to trash-talk female artists. Especially considering he's produced many great ones, including Mariah Carey, Destiny's Child, Alicia Keys and Da Brat among others.
He *obviously* isn't paying attention, because the truth is there are tons of insanely talented women in the rap game, who are influential AF and  have a lot to say—and yes, sometimes that means rapping about their lady parts. Here, six ladies killing the game who you—and Dupri—should definitely be following.
Lizzo
Who she is: Melissa Jefferson, know to fans as Lizzo, is an alt-hip-hop singer and rapper from Houston, Texas. After moving to Minnesota in 2011 and taking part in various musical groups (including rap trio The Chalice), Lizzo went solo, and with the 2019 release of her album Cuz I Love You, is officially killing it.
Why you need to know her: First of all, she's "100 percent that b-tch," and makes everyone who surrounds her and listens to her music feel like it too. And, she's the ultimate multi-hyphenate. Not only does she rap, but she's a classically trained flute player, and can go from playing the flute to twerking (while playing the flute), to belting out soulful lyrics that'll give you all the feels, to keeping pace with Missy Elliott—and that's all in one song.
HAVE U EVER SEEN A BITCH PLAY FLUTE THEN HIT THE SHOOT? pic.twitter.com/aVy3E6kIVF

— |L I Z Z O| (@lizzo) October 20, 2018
It's a lot in—the absolute best way possible. And she can sing. Like, sing sing. The performer has soulful vocals that can give Aretha Franklin (one of her inspos) a run for her money. Seriously, listen to "Jerome." *Goosbumps.*
In addition to releasing her latest album, the singer attended (and totally rocked) the Met Gala, has a role in the upcoming film Hustlers—alongside heavyweights like Jennifer Lopez and Constance Wu—and is in the midst of a tour. It's seriously the summer of Lizzo—but we also have no doubt that she'll be around for a long time to come.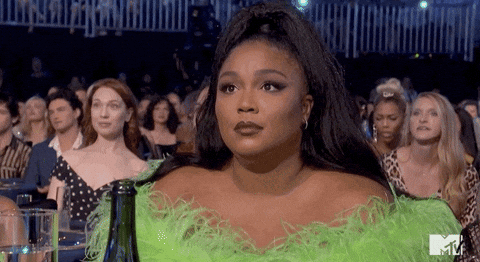 What she raps about: Honestly, everything. Whether she's talking about gender inequality on "Truth Hurts," self-love on "Juice" or embracing your sexuality on "Boys," Lizzo's interests and range runs the gamut.
Tierra Whack
Who she is: Tierra Whack is a Philadelphia-born-and-raised rapper who has become well-known for her surrealist take on rap.
Why you need to know her: Whack, who until recently was still a doorwoman in Philadelphia while trying to make it in the rap world, is known for her experimental take on music. Her 2018 album Whack World featured songs that clocked in at exactly one minute, with a range that Pitchfork described as, "at different moments…hip-hop, R&B, pop, or country," with crazy, surrealist visuals to match—something not usually seen in hip hop.
The album was heralded by Vice as "[one of] 2018's more fearless debuts," with the short running time and visuals allowing for audiences to stream the entire 15-minute album—in snippets—on Instagram; challenging the notion of streaming in the age of social media. And we thought Beyoncé's Lemonade was revolutionary (FYI, it still is).
We can also thank Whack for inadvertently giving rise to another rising star—RedCarpetGirlz—and this video:
The power her influence has is immense.
What she raps about: Whack is inspired by a lot around her, including seriously relatable remnants from her childhood, like the Hungry Hippo game (iconic), which inspired the song by the same name. In a June interview with Dazed, Whack told the publication: "I wish I was a kid. I never wanted to grow up. It really is a trap." And her music reflects this.
Megan Thee Stallion
Who she is: Megan Pete, a.k.a Megan Thee Stallion, is another Houston, Texas-mega star, known not only for her music, but her ability to seriously influence the internet. She's also a *big* proponent of the "yeehaw agenda." #Bless.
Why you need to know her: Like Lizzo and many women on this list, Megan Thee Stallion is a triple-threat, known for her freestyles, insane lyrical prowess and sex-positive lyrics.  In addition to her crazy career, Megan is currently in her third year at Texas Southern University—a scholar, too! Aside from music and academics, Megan is also the woman behind one of the summer's biggest internet trends: "Hot Girl Summer."
Hotgirl shit all summer 😛

— HOT GIRL MEG (@theestallion) May 25, 2019
So a true icon in every sense of the word.
What she raps about: The confident rapper is known for challenging double standards through her sexually-liberated songs like "Big Ole Freak" and "WTF I Want." In a September 2017 interview with Houstonia Magazine, Megan said: "I'm so outgoing, and I'm so cocky and confident in my music because I want other people to feel that way when they're listening to me. I want to make them feel happy to be them."
City Girls
Who they are: A rap duo from Miami, Florida, City Girls is made up of members Yung Mami and JT. If you're thinking these ladies look familiar, it's probably because you caught them in Drake's video of summer 2018, "In My Feelings." They stole the show.
Why you need to know them: The City Girls have been featured alongside celebs like Drake and Cardi B and add some serious spice—not to mention badass rhymes—to any track they're on. They're the first prominent female rap duo since Salt-N-Pepa and have been heralded for pushing back against the misogyny usually directed at women in rap music.
What they rap about: They know rap music is an old  boys' club, and they want their cut. The duo have become known for subverting familiar tropes, boasting their own swag to mimic (or, in a satire of) the men who've come before them. From literally snatching back the money owed to them on "Millionaire Dick," to sampling other badass female rappers—like Khia's "My Neck My Back" on "F-ck Dat N-gga," the duo are all about literally owning their success.
Leikeli47
Who she is: Who really knows? But seriously, who really knows? Let *us* know.
Why you need to know her: Because she's intriguing AF. Not only is her music bomb, but she's essentially the SIA of rap music. Leikeli47 is known for concealing her face with a bandana or balaclava at all performances and professional appearances, which is super mysterious—and we're super here for it.
What she raps about: Her latest album, Acrylic, is a celebration of Black life and love as well as the matriarchy. Which, I think we can all agree we need more of.
Cardi B
Who she is: TBH she needs no introduction.
Why you need to know her: Not only is Cardi B one of the greatest rappers of all time, but she's also unapologetic AF and not afraid to stand up for what she believes in. In response to Dupri's comments about female rapper sticking to one subject, Cardi hit back in the best way she knows how: with her words. In a video posted to Instagram, Cardi said: "First of all, I rap about my p-ssy because she's my best friend and second of all it's because it seems like that's what people want to hear." Cardi then referred to her heartbreak song "Be Careful," saying that fans were mad when the song wasn't sexual. "It's like if that's what people ain't trying to hear then I'm going to start rapping about my pussy again," she said. Which, facts.
What she raps about: Well, sorry Dupri, but she *does* rap about her vage—and often. And there's nothing wrong with that. But, she also talks about infidelity, oral sex, criticism from the media and a whole bunch of other things—because she, like every woman, is nuanced.
Related:
5 Celebs Who Sold Us On the Yeehaw Agenda
Offset Needs to STFU, and So Do We
5 Buzzworthy Female Rappers Crashing the Boys' Club