Halsey may think she's "Bad at Love," but it turns out she might actually be a love genius. The Badlands singer (a.k.a. Ashley Nicolette Frangipane) is reportedly dating American Horror Story actor Evan Peters—the pair were recently spotted on a seriously cute date at Six Flags theme park in Los Angeles. If you're surprised by the coupling, you shouldn't be because it's a match that was written in the stars—or, at least, on Halsey's Twitter feed.
The singer, who was last linked to British musician Yungblud, has been tweeting about Peters—and her crush on him—since at least 2012, initially vocalizing her love for the actor and his AHS character, Tate Langdon, by tweeting: "Seriously Evan Peters stop making me attracted to alleged sociopaths and accused murderers…."
A year later, Halsey continued her unadulterated thirst for Peters, tweeting: "Petition for Evan Peters to date me" (TBH, a petition we would have gladly signed), and in 2014 she laid it all out in the Twittersphere, writing: "I'm a fucking liar I'm so in love with Evan Peters I'm so whipped I'm whipped as fuck."
So, obviously her campaign was a success. While this could just be chalked up to a one-off case of thirsting gone very, very right (I mean, who wouldn't want to date Halsey?!), the songstress isn't the only celeb to manifest her relationship destiny via Twitter. In the same year that Halsey first tweeted about her love for Emma Roberts' ex, Hailey Baldwin started a seven-year campaign to manifest her destiny when she began tweeting about her love for a certain Canadian boy by the name of Justin Bieber. After initially tweeting about her love for Bieber and his then gf, Selena Gomez, in January 2012, the bb model changed tactics, tweeting at her "Baby" crush: "@justinbieber can we just talk about your dark hair for a second… #itlooksreallygood." She followed up a month later, writing: "Oh hey @justinbieber waddup doeee…?" That triple "e" is very telling.
Oh hey @justinbieber waddup doeee…?

— Hailey Bieber (@haileybieber) February 13, 2012
While Baldwin's teen tweets are kind of giving us second-hand embarrassment due to the overeager energy radiating from them, you can't fault a hustle—especially when said hustle works, because, reader, she married him (today, in fact!).
You guys, your camp counsellors were right: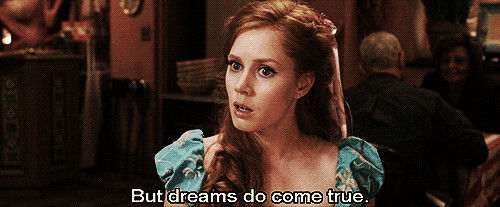 And also: Thirst. Gets. You. Places!!!
And we have to ask: Are these ladies on to something? They say you get back what you put out into the world, and both Halsey's and Mrs. Bieber's love lives are seriously proving it. Maybe there *actually* is something to publicly and unabashedly voicing your dreams and goals.
These ladies are giving us all the motivation to seize the day—and our Twitter accounts—in both love and life! You want to date Drake? Tweet it. (Just don't ask him to murder your vagina.) Looking for love with Rihanna or Cara Delevingne? Alexa, send that tweet! Want to let Shawn Mendes know that your mouth goes Sahara Desert-dry when he takes off his undershirt in the "Señorita" music video? Maybe keep that to yourself. Or go ahead and tweet it anyway! Who knows, in seven years you too could be about to wed your celeb crush—potentially clad in all corduroy—in a church in South Carolina.
This daring approach extends beyond love. Do you have a professional or personal goal you want to see achieved? Go for it! Put it in that magic 8 ball that is Twitter and hit "Tweet."
Unleash the drafts folder—you never know what might happen.
Related:
Nick and Priyanka's Whirlwind Engagement Is a Sign of our Times
The Internet Is Once Again Surprised That Halsey Is Biracial, and That's a Problem
Halsey's Newest Tat Was Designed by Lil Wayne!