By this point, we're *all* on the Raptors bandwagon. In a franchise first (ie: history making), Toronto's basketball team is playing in the NBA (National Basketball Association) finals, going up against two-time reigning champs the Golden State Warriors. And #WeTheNorth are seriously here. for. it. Someone else who's completely here for it? The Raptors' unofficial hype man and global ambassador Drake.
Since the start of the series, Drizzy has been a courtside fixture, cheering on Kawhi Leonard, giving celebratory shoulder rubs to the Raps' head coach Nick Nurse, talking trash to the opposing players and strutting around like he's legit on the team. No, seriously, he put on a finals hat before some of the *actual* players and is conversing with Raptors alums like he too can remember the good 'ol days.
At this point, I wouldn't be surprised if Drizzy showed up to a game with his name on a jersey; shorts and sneaks on and ready to be subbed in.
Drake really thinks he's one of the players 🤣 pic.twitter.com/z9WQklJRX1

— Bleacher Report (@BleacherReport) May 31, 2019
While some Toronto Raptors and Drake fans (but like, aren't they one and the same?) may welcome his bench-side antics, a lot of people—including the NBA—want him to chill. The rapper has received a lot of flack for his enthusiastic stanning. During the Eastern Conference finals against the Milwaukee Bucks in May, Drake's behaviour was called out by the Bucks' head coach Mike Budenholzer. "I see it in some timeouts, but I don't know of any person that's attending the game that isn't…a player or a coach that has access to the court," Budenholzer told People of Drake's tendency for stepping on to the court and engaging with the players.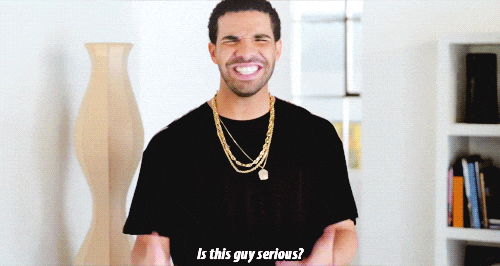 In the lead up to the NBA finals, according to the Canadian Press, the league called on the Raptors to reign in their #1 fans behaviour—which, good luck.
But also: leave Drizzy alone. Because TBH, we're 100% here for his courtside antics.
Drake isn't *technically* doing anything wrong
While he may be annoying to the opposing team's players, as a fan, the "God's Plan" rapper isn't breaking any rules. Per the guidelines outlined in the NBA Fan Code of Conduct, everyone's favourite Degrassi star has pretty much adhered to the regulations. He admittedly straddles the line when it comes to "attempting to enter the court," something Drake seems to do on the reg (see: *that* shoulder rub). But his title as global ambassador—and the partnership between his brand OVO and the team—seemingly allows him to act like both a fan and a player. He's part of the team…kinda.
That said, he isn't completely off the hook. "There's always the argument of chirping the other team too much," The Gist's Ellen Hyslop says. "While fans chirp the opponents all the time, it's hard to be able to actually do that and get in someone's face if you aren't Drake." While Hyslop says maybe Drizzy could dial back his face-to-face confrontations, she's conflicted. "I'm a Raptors fan," she says. "So if that helps the Raptors in any way, maybe that's a good thing… but as a basketball fan, and as someone who really respects the players and doesn't necessarily think a fan should be getting up in their face, maybe I don't love that."
Let's be honest, Drake adds to the entertainment value
We're only one game into the finals, and Sandra's son has already given us some peak meme-able content. From showing up to the May 7 game in a Breaker High sweatshirt to picking fluff off of Steph Curry's head and then joking about selling it on eBay, Drake is like a must-watch side show to the main event.
Drake told the NBA he'd tone it down then he showed up wearing Steph's dad's jersey, got in Curry's face, Hotline Blinged Klay, told Draymond he's trash, and flexed on them on IG. He's the real MVP.

— Josh Lewenberg (@JLew1050) May 31, 2019
For the May 30 game, Drizzy came out in full force, entering the arena sporting a Dell Curry Raptors jersey (i.e. the father of Golden State Warrior superstar Steph Curry who played for the Raptors from 1999 to 2002). During the game, the Torontonian partook in some banter with Curry, proceeded to *literally* trash talk player Draymond Green and clowned himself by mocking players with moves from his hit "Hotline Bling."
😏😏😏#NBAFinals | #WeTheNorth pic.twitter.com/7i3fBD9r6k

— Sportsnet (@Sportsnet) May 31, 2019
But getting attention and generating fan reactions is exactly how Drake earned his Raps' title. As the Global Ambassador for the Raptors since September 2013, the rapper was appointed to bring some then much-needed popularity and notoriety to the team, in addition to building enthusiasm in the Raptor's fan-base. Check and check. So we're going to hate on him for literally just doing his job?
According to Hyslop, Raptors mania would've probably been the same if they'd made it to the finals sans celeb hype from Drake, but there's no denying that he's helped contribute to the pandemonium, especially when compared to other celeb fans like players from the Leafs and fellow Torontonian Shawn Mendes. "It's just not the same thing as being a global ambassador for the team," Hyslop says. "Posting Instagrams about the team and tweeting about the team and really feeling a part of it…Being a fan is also just blending into [Drake] being a business partner for the Raptors. So it's just a different level."
Hyslop can definitely see why Drake's "manic" energy might be seen as too far for some, but adds that maybe those sentiments "are from people who are cheering for the other team or aren't used to seeing this."
And, regardless of how we may personally feel about Drizzy, these memes and trolling becomes a part of the story of this epic series. In addition to "The Shot" and the lack-luster sports interviews where players legit say the same GD thing every time, Drake adds to the narrative of what this series is and what the highlights were.
I mean, in the words of Russell Crowe: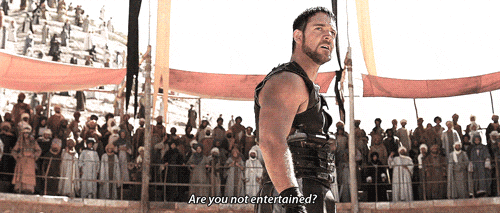 Drake brings his star power to the game
While we here in Canada may not be as used to seeing such star power courtside, the idea of stacking the front row with A-listers as if its fashion week isn't unique to the Raps and Drake. At L.A. Lakers games, the front row is always filled with celebs.
While Hyslop says she sometimes worries that Drake may take away from the amazing things the players are doing on the court, "I think that can happen with any celebrity," she says. Just look at all the frenzy around Queen Bey's appearances at NBA games, or the constantly revolving door of Jenner/Kardashians in attendance. And TBH, celebrities are part of the appeal for fans, and have been for a long time. As Aaron Timms wrote in a recent article for The Guardian, celeb superfans are part of the league's heritage, dating back to the NBA's inception, when—before it had the notoriety of today—it was the merger between the entertainment industry and basketball, celebs like Jack Nicholson and Billy Crystal sitting courtside, that not only made the game exciting, but gave it character, helping the NBA to become what it is today.
Aside from the aesthetic factor of having celebs sit in the front row, it can also help the home team win. As Timms notes, it makes sense for NBA franchises to include their celeb superfans in the on-court action, especially during home games because, "more than in other U.S. sports, home-court advantage makes a significant difference to basketball teams' fortunes."
Drake is emblematic of many people's own response to the team
Drizzy's antics aren't just entertaining, they're also relatable AF.
Drake is, and always has, worn his heart on his sleeve. And while sometimes that can be a bit much (*ahem* Rihanna *ahem*), this time, we're firmly in his feelings with him because he's hella proud of his country and Toronto. And for a lot of Canadians—who rarely have the opportunity to see their country really make it in sports on the international stage (hockey is trash, don't @ me)—that's a love and pride we can relate to and get behind.
Yes, there is definitely an argument for Drizzy being a distraction, but a) that can be said for literally anything happening off the court and b) that's kind of the point of sports. I can't even count the number of cheers designed and chanted by my highschool-era softball teams to throw off the opposing team. It's all part of the game.
This isn't golf. We're all riled up, and Drake's hype man performance only further enhances the experience, allowing us to all get caught up in the emotion and drama of the game. "I think it's pretty cool to see how passionate he's actually being at the arena in the same way that all of us just regular folks and fans would be acting," Hyslop says.
TBH, Drake is the only guy for the job
If anyone was going to be hyping up the 6ix—it has to be Drake. Heck, he gave the city it's trendiest nickname. There's a reason he's practically synonymous with the Raptors at this point, because in a way, he put Toronto on the map. Whether he's rapping about Kennedy Road on a track, channelling peak 90s nostalgia by reuniting the Degrassi cast for a music video or tatting the cities "416" area code onto his body, Drake has been engrained in pumping up the city for years, even contributing to Toronto's tourism industry. In a 2018  interview, Gordon Hendren, a marketing and branding consultant, told Vice News that the hip-hop icon's influence is responsible for about 5% of T.O's $8.8 billion total annual tourism income. That may not sound like a lot—but it is. By repping his hometown, the Raptors and other restaurants and clubs, Drizzy has drawn in about $440 million.
"He's helped to rebrand the city," Hendren told Vice. "He's kind of made himself the same as Toronto." Which is why his position as the cities hype bae makes sense. He legit lives for this city.
"I think that altogether it's fun and refreshing to see somebody courtside who's so excited and so passionate about the team and really feel like they're part of the team," Hyslop says. "And I think that it is pretty cool that it's Drake."
So, to all the haters: Bless your hearts
— Bleacher Report NBA (@BR_NBA) May 31, 2019
Related:
A Bandwagon Jumper's Guide to the Toronto Raptors
Why 2019 Is the Year I'm Over Drake
Drake and Meek Mill Made Up, So Why Can't These Celeb Feuds End?