Welp, guys, it happened. After four years together Bradley Cooper and model Irina Shayk have reportedly split and per People, the couple plans to share custody of their 2-year-old daughter, Lea De Seine. We can only assume that this is a really tough time for Shayk and Cooper (neither has publicly commented on the split)—and yet, A Star is Born fans basically started to freak the eff out immediately.
Twitter: Bradley Cooper and Irina Shayk have split up
Me: pic.twitter.com/rzt4V8D6O5

— Jordan frye (@jordan_frye) June 7, 2019
Fans on social media started calling for Cooper to quickly shack up with his A Star is Born co-star, Lady Gaga.
bradley cooper lady gaga
🤝
being single
at the same time

— hunter harris (@hunteryharris) June 7, 2019
Lady Gaga checking Bradley Cooper's relationship status online and seeing that he's now single pic.twitter.com/PHQ23Ip5pn

— Boston Gay Boy 🏳️‍🌈 (@BostonGayBoy) June 7, 2019
The pair's chemistry—both on-screen and on the red carpet—caused quite a stir during press for their film in 2018, with multiple fans and magazines joking that Shayk better watch her man. But what was once a joke has quickly gone (like many things on the internet) too far. The Cooper-Gaga romance started as a marketing tool, but has taken on a narrative of its own—and guys, we need to stop. Because if anything, this obsession with them as a couple could be keeping Gaga and Cooper apart.
It's not surprising that fans stan the couple
We can't put all of the blame for this fantasy solely on the fans, because—to an extent—this kind of romantic hype around the two actors is *exactly* what they, and the film's PR people, wanted. BCoops and Gaga leaned into the romantic narrative, taking the chemistry between their characters, Ally and Jackson Maine, from the screen to IRL in order to promote the film.
They held hands on the red carpet and sang together during concerts. Cooper essentially unveiled Gaga at TIFF. Gaga repeatedly got sentimental about Cooper's belief in her talents (a speech that was maybe plagiarized?). The entire A Star is Born press tour was reminiscent of iconic co-star romances of old Hollywood. From their red carpet appearances, to the way they spoke about each other and looked dreamily in to each others eyes, Cooper and Gaga channelled the same vibes as co-stars-turned-lovers like Elizabeth Taylor and Richard Burton and Katharine Hepburne and Spencer Tracey.
Need we remind everyone of their performance at the 2019 Oscars? ICYMI, Cooper and Gaga literally held hands over Shayk and proceeded to set the Oscars stage and every woman's loins on fire with their *steamy* rendition of "Shallow".
There was a lot of this:
And more of this: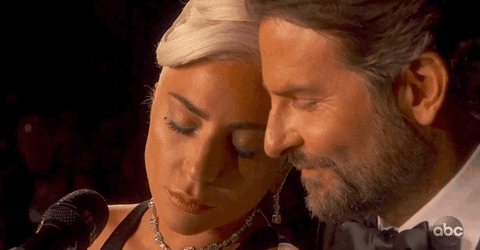 And the responses from fans were pretty much par for the course:
Thinking about how Bradley Cooper and Lady Gaga have to go back to their seats and act like they didn't just eye fuck on stage in front of Irina pic.twitter.com/qL2vJwZq7U

— Ria (@BarstoolRia) February 25, 2019
But, we really shouldn't be so invested
What started out as harmless marketing for A Star is Born has turned into a beast of its own. Regardless of whether this was intended as a way to sell the film, fans got overly invested in the idea of these two together—and we really shouldn't be.
Firstly because they've repeatedly told us that they aren't together. It's important to note that while on the press tour both Gaga and Cooper were in long-term relationships; with talent agent Christian Carino and Shayk, respectively. While Carino and Mother Monster broke off their engagement in February, from the onset, Gaga and Cooper have denied that they're romantically involved—or that they even want to be.
In a February interview on Jimmy Kimmel Live!, Gaga responded to a question about the Cooper romance rumours with a literal eye-roll.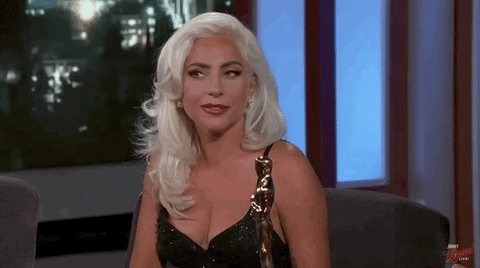 She also called social media "the toilet of the internet," which is very true.
Secondly, because you guys, it's acting.
For everyone who was freaking out at their Oscars performance, claiming that their steamy eye-contact over the ivory keys was indicative of true love…that is the point! They are actors playing the role of two characters deeply in love, so if you were convinced, they did a good job. Because that's what it was—their job.
In the interview with Kimmel, Gaga said as much, telling the host (and anyone that would listen): "Yes, people saw love. And guess what? That's what we wanted you to see. You know, I mean, this is a love song, 'Shallow.' The movie, A Star Is Born, it's a love story." Talking about the Oscars in particular, Mother Monster said: "When you're singing love songs, that's what you want people to feel. I'm an artist and I guess we did a good job and fooled ya!"
So, pretty much Gaga's response to the hype: "I wanted…an Oscar?"
Which, fair enough girl, fair enough.
And actually, we're probably keeping them apart
If anything, all of this hype and madness likely makes it more difficult for these stars to ever be together.
Mere hours after it was reported that Cooper and Shayk were in splitsville, fans were already calling for his coupling with the Joanne singer. It seems likely then that the same PR people who were so adamantly pushing them together during press tours are now advising them to never be seen within 100 metres of each other. Because if they are seen together anytime soon—even to just grab a coffee and lament about exes—the whole frenzy will reignite.
As much as stans are rooting for their coupledom, the truth is that the toxicity of rampant stan culture can actually pull people apart.
In an August 2016 interview with The New York Times Magazine, actress Kristen Stewart talked about the pressure she felt from fans while in a relationship with Twilight co-star Robert Pattinson. "People wanted me and Rob to be together so badly that our relationship was made into a product. It wasn't real life anymore. And that was gross to me," Stewart said. "It's not that I want to hide who I am or hide anything I'm doing in my life. It's that I don't want to become a part of a story for entertainment value." The couple dated from 2008 to 2013.
Do we really want that for our faves Gaga and BCoops? Like Jackson Maine so beautifully sang: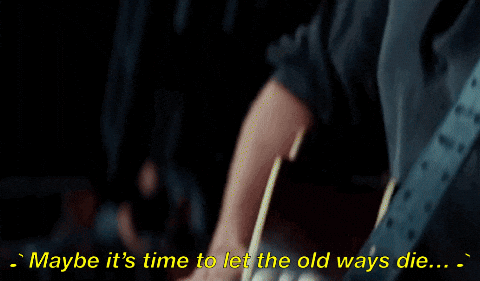 Maybe it's time to let this hardcore fantasy die, too.
Related:
From Jordyn Woods to Lady Gaga, How We Talk about Cheating Matters
Lady Gaga and Bradley Cooper's Oscar Performance Got REAL Intimate
Let's Not Make Justin and Selena 2018's Brad and Jen, OK?