Well friends, it's offish the end of an era—the Hannah B./Tyler C. era that is. Bach nation fans on December 9 noticed that season 15  fan fave, Tyler Cameron, has taken a cue from Blake Lively during every press tour and wiped his Instagram clean…well clean of his ex, Hannah Brown, that is. He has deleted every single photo of her, y'all.
While the reality TV alum's grid wasn't chock full of photos of him and the season 15 lead, there were a few super cute posts of the pair, both from during their run on the show and after; the most infamous of which was his July 30 post-After the Final Rose pic, in which Tyler—who has been vocally supportive of Hannah both during the run of the show and in the time since—shared a super sentimental message alongside a photo of the pair laughing at the ATFR taping."Dear HB, What a ride… I'll make this short and sweet. This journey with you is something that I will always cherish," the Florida native wrote on Instagram at the time. "I am so grateful for all the experiences that we shared together. You taught me so much about myself and pushed me to be a better man. I learned so much from you and so did the rest of Bachelor Nation. You were what we all needed as a lead. You showed strength and grace in the most beautiful way. You kept it real and gave us all of you."
As if that wasn't sappy enough, Tyler concluded his message with a little bit of hope for all the team #Tannah stans, referencing Hannah's proposal that the pair go for a drink and writing: "As one chapter closes, another one begins. The world is yours girl! Excited to see what you do with it. Looking forward to that drink. Forever your biggest fan, TC." *swoons*
But yeah, that post? Gonezo. And the million dollar question is: why? As of publication, Hannah still has photos of all her exes up; and the former couple still follow each other on Insta (the real sign of a beef or nah). So, what's his ish? Did ABC *finally* release Tyler from his Bach mandated contract? Did a potential new GF/hookup buddy issue an ultimatum? Is he finally making the launch into superstardom and leaving his B-list celeb exes behind? Or, is he, just like every other person whose had their heart broken—trying to move on? Here, all of our very scientific theories.
He has a new GF
The most obvious reason Tyler might make the decision to pull a Mr. Clean on photos of his ex? A new lady love. Since his split (and brief re-connection) with Hannah in August, Tyler has been linked to some famous women; the biggest name being model Gigi Hadid. The pair started a torrid summer love affair after the model followed the reality TV hunk on Insta. After two moths together (and a trip to the Netherlands, where Tyler supported Hadid at her grandmother's funeral), the pair split in October, with Tyler telling People TV: "It wasn't like a bad breakup or anything like that. It was just, we're at different parts of our lives right now. We're just friends."
The pair no longer follow each other on social media, but seemed super casual while hanging out, so we're guessing Hadid was A-OK with the hunk keeping photos of his ex up (especially considering said ex was the reason Tyler was even on Hadid's radar). But since their split, Tyler has been linked to another blonde—Kylie Jenner's BFF, Stassie Karanikolaou. In November, the couple were spotted making out and getting cozy at a club. Could TC's social media cleanse mean that he and Karanikolaou are more serious than we thought?
Maybe Karanikolaou, wanting a fresh start with her new man, has issued an ultimatum of sorts—she goes or I go, IRL. Which is *semi* understandable. While I'd never personally tell a new paramour to delete photos of their previous partner, I am also not newly dating someone whose ex is a bonafide TV star and beloved by America. So, it's a different sitch.
He's on his way to superstardom
Or, maybe it's not Karanikolaou's influence at all that's caused Tyler to say sayonara to photos of Miss Hannah B—perhaps it's his own ambition. It's no secret that since the end of the show, Tyler has been slowly but surely launching into superstardom; perhaps more so than any other Bach castoff before him. Since the end of Hannah's season, Tyler has:
Been profiled by GQ…
…not to mention attended some pretty big runway shows.
He's also made appearances on Andy Cohen's Watch What Happens Live…
…and been nominated by and attended the People's Choice Awards.
Plus, he's now BFFs with like every female celeb. With all that fame in his back pocket, is it a leap to assume that maybe, just maybe, he's cleansing his Insta feed in the hopes of dissociating himself from his reality-star roots? Sure they got him to where he is, but perhaps TC is ready to launch from the C list to the A list, baby!
He's afraid of the BBA
One thing that'll help Tyler get to the A list? Not succumbing to the dreaded "Bachelor Bae Arc." We've been worried for a while now that our Bach fav might be on a trajectory towards Bachelor purgatory, following in the steps of alums like Nick Viall and Blake Horstemann who went from beloved to seriously reviled. We've written about it at FLARE extensively; and even advised Tyler to stop talking about his relationship and stop popping up everywhere Hannah is. So, maybe he finally listened?
If this theory tracks, that probably means that Tyler is aware of BBA (a phrase coined by FLARE, patent pending); meaning that he is a reader of FLARE. Which, if this is the case, all we have to say is: Hi, Tyler!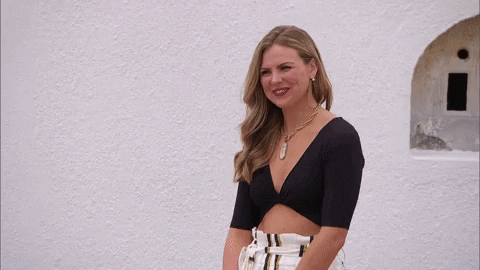 And, you're welcome.
Hannah asked him to take them down
On the other end of this uncoupling, maybe Hannah—kind of sick of continuously being lumped in with Tyler in every news story—asked him to sever the tie by deleting their pics?
Considering the fact that Hannah still has all her photos with Tyler up on her social media account, we'd say that this is probably the least likely theory—also: how petty can you be? Considering Hannah is on a serious career high, having just taken home the coveted Mirror Ball trophy on the November 15 finale of Dancing With the Stars, and is busy living her best single life in Los Angeles, we're betting she doesn't even have the time to check in on her exes let alone be bothered by her likeness up on their feeds.
He's legit like every other person going through a break-up
Or, maybe, just maybe, the true reason Tyler decided to hit "archive" on his photos with Hannah is because—like so many people who have gone through break-ups—he's just trying to move on. And TBQH, that can be difficult if you're seeing that person every time you open up your Instagram grid. There's no doubting that Tyler has been on a romantic whirlwind since his time on the Bachelorette, but at the end of the day, he also had his heart broken by Hannah. It can be easy to forget that tidbit with all the super hot photos of him at red carpet events and the seeming bevy of models he's been dating.
After throwing himself into so many new and exciting experiences straight off a break-up, maybe Tyler is now taking the time to truly process his heartbreak and move on from that period in his life; and perhaps deleting these photos is his way of telling the world that he's entering a new phase of Tyler. As someone whose own ex did the Instagram photo scrub, I know firsthand that you can't take Tyler's decision personally—he's gotta do what's best for him. So, you do you, TC!
Either way, we'll still be following (and ogling) all his posts.