It appears that The Bachelor's Season 24 heartthrob Peter Weber has a little thing for southern gals named Hannah. Season 15 Bachelorette Hannah Brown totally captured Pilot Pete's heart on her season of the franchise (and probs would have captured a pretty nice Neil Lane diamond from him), and now, many are predicting that contestant Hannah Ann Sluss will follow suit and win the whole dang thing. And where, you may ask, would Bach nation get this sort of top secret intel? Surprisingly, not from Bachelor savant Reality Steve (though he has *a lot* to say about the season), but from the season's very first cocktail party—and Peter's choice for the first impression rose. After bursting into the Bach mansion with guns and lips blazing, Hannah Ann spent most of the first episode making enemies and making out with Peter (seriously, your girl had *three* convos and make outs!).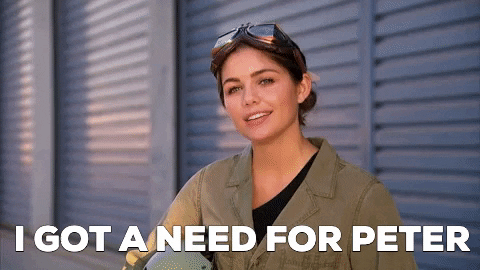 While her tenacity didn't sit well with some of the other ladies in the house, it sure landed with 'ol Petey, who gave Hannah Ann the highly coveted first impression rose, telling former Bachelorettes Rachel Lindsay and Becca Kufrin on their podcast that her forwardness is what drew him to her. "That's actually part of the reason. I love that!" Peter said of being pulled away by Hannah Ann. "Hannah Ann was someone that… that girl knew exactly what she wanted coming into this, and never let me question that."
Read this next: A Comprehensive Guide To All The Contestants on Peter's Season
And because there's a long history of first impression roses dictating who wins the season, Bach nation fans are calling the whole thing. But will Hannah Ann really get Pilot Pete's first impression *and* final roses?
Yes, there is a history with the first impression rose
Bachelor nation is right about one thing: There is a long(ish) history of those who receive the first impression rose making it all the way to the end—or at least to the top two. As Elite Daily noted, in seasons nine through 14 of The Bachelorette, each of the men who received the first impression roses made it to the final two; and four of those men went on to "win" their seasons, with Ali Fedotowsky, Kaitlyn Bristowe, JoJo Fletcher, Rachel Lindsay and Becca Kufrin each giving their first and final roses to Roberto Martinez, Shawn Booth, Jordan Rodgers, Bryan Abasolo and Garrett Yrigoyen, respectively.
While not all of these couples made it super long-term (Ali and Roberto split just over a year after the finale and Kaitlyn and Shawn split after three years together), it's still a *pretty* good track record.
But, the first impression rose trend tends to only be true for The Bachelorette
While the odds are good that the recipient of the first impression rose will also get the final rose on The Bachelorette, on The Bachelor… not so much. Season 17 Bachelor Sean Lowe is the only male lead whose first impression rose went to the eventual winner (and his now wife and mama to three kids) Catherine Giudici. The hitch? He gave first impression roses to 12 of his 26 contestants; something done at Sean's request to shake things up.
Read this next: Luke P. Is The Worst, But So Are The Bachelorette Producers
Maybe men are just more indecisive? I mean, what can you expect when you have men like Juan Pablos giving out roses?
And Hannah Ann has had some unfavourable comparisons
And even though The Bachelorette has a higher first-impression-rose-to-eventual-winner rate than its counterpart, it's not like those first picks always work out for the best. On Hannah B's season of The Bachelorette, she awarded her first impression rose to potentially the worst villain in Bach history, Luke P. And TBH, people are kind of predicting that Hannah Ann might be on the same trajectory as the 5'8″ villain.
I'm telling my kids this was Luke P. #TheBachelor pic.twitter.com/UkrC59dzqt

— Emily Christensen (@christensenebc) January 7, 2020
While Peter found Hannah Ann's continual interrupting of his convos with other women to be assertive and a sign of her knowing what she wants, a lot of people on social media compared her actions to Luke P's, pretty much implying that she was just as manipulative as Luke P, who, if you remember, straight up slut-shamed Hannah B. (Speaking of manipulative boos, let's also not forget Jed, who won Hannah's season, proposed to her and then revealed he had a GF back home—jerk!). 
Hannah Ann every time Peter is with anyone else #TheBachelor pic.twitter.com/xk5nRrA4KY

— emmywill (@emmywilll) January 7, 2020
People are also saying that she's hella fake.
Hannah Ann: #TheBachelor pic.twitter.com/ebZwbxUTyc

— Derek Peth (@PethDerek) January 7, 2020
While Peter denied any similarities between his potential GF and Luke P on the January 7 episode of Kufrin and Lindsay's podcast, "Bachelor Happy Hour," Hannah B herself did some serious denying on behalf of Luke P for pretty much her entire season, falling back on their chemistry and relationship with God as a reason to keep fighting for him. Which, as we know now, was a pretty big frickin' mistake (but also, part of being gaslighted). Will it be a similar outcome for Peter and his newest Hannah?
Read this next: Luke P. Isn't The Only Person Manipulating Hannah on The Bachelorette
FWIW, Jimmy Kimmel has predicted that Peter *does* fly off into the sunset with Hannah Ann, and he has a history of guessing correctly (and sometimes even before Reality Steve!). So who's to really say what'll happen.
For now, this'll be us every Monday.