Excuse me Chris Harrison, but you have some explaining to do. On January 9, the longtime Bachelor host made some seriously suspect comments about recent Bachelorette lead and everyone's fave Dancing With The Stars winner, Hannah Brown. Specifically, he called her a train wreck. Speaking to Us Weekly about what viewers can expect from the current season of The Bachelor—on which Hannah has already made two pretty emotional appearances—Harrison said of Hannah's future on the show: "I think the things that make us love her so much—and I'm included in that and adore her—is she is so open and honest and just, she's a train wreck. You get to see the good, the bad, and the ugly in Hannah, and that's a rare thing in any human being."
Seriously Chris?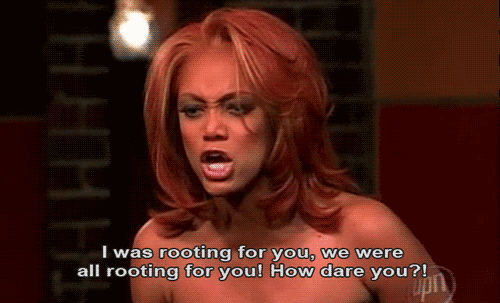 To echo this iconic Tyra Banks moment: how dare you?!
As if calling Hannah a train wreck wasn't enough of a diss, later that same day, Harrison re-tweeted a clip of country singer Jake Owen singing lines from his Hannah diss track, Alabama Hannah (seriously, what is it with country musicians and The Bachelor?). The line in question? "You had your chances, so won't you leave me alone. Alabama Hannah, won't you go on back home."
"My man @jakeowen speaking his truth to Hannah B on behalf of Peter," Harrison tweeted alongside the vid.
My man @jakeowen speaking his truth to Hannah B on behalf of Peter #TheBachelor https://t.co/KwkLLrhyh0

— Chris Harrison (@chrisbharrison) January 10, 2020
Again, pardon?
For her part, Hannah once more proved that she's the queen of standing up for herself, calling Harrison out on Twitter for the shade, tweeting: "Better just be his truth Christopher. I'm not just chop liver now—you still have to love me and try to understand my mess."
And honestly, I am perplexed. Hannah has been the brunt of a lot of internet hate since her turn on The Bachelorette, but this criticism from Harrison in particular just doesn't sit right. Here's why.
Chris Harrison is perceived as the dad of the Bachelor mansion
For a show that's all about "the right reasons," and usually features contestants who aren't there for them (looking at you, Jed), Harrison has always been a reliable, trustworthy constant. The one person who, without a doubt, is always there for "the right reasons"—namely, to support and look out for the best interests of the bachelor or bachelorette. At least that's what he's set up to appear to be.
Read this next: Sharleen Joynt on The Bachelor Episode 2
Time and time, Harrison has been at the centre of many a stressful moment on the show, and he's always shown supporting the lead, whether that means approaching a very upset Rachel Lindsay and asking her what she needs, calling out a truly obnoxious suitor for the ass that he is on Emily Maynard's Men Tell All special, or running into the Portuguese countryside in search of a just-dumped, fence-jumping Colton Underwood, Harrison is always there. The contestants seem to love him so much that he's even officiated some of the couples' IRL weddings!
And especially when it come to the bachelorettes, Harrison very much takes the protective dad role, which makes his not-so-supportive comments about Hannah seem super out-of-character.
And calling Hannah B out for something he's previously praised just feels wrong
His call-out seems especially out of left field considering the fact that the traits Harrison purported make Hannah a "train wreck" are the very same ones that the DWTS winner was *praised for* during her own season of The Bachelorette. In his interview with Us Weekly, Harrison talks about how Hannah is "open and honest" with her feelings and emotions. Mere months ago, the same traits he's now referring to as part of her being a "train wreck" were followed with terms of praise about how real and vulnerable she was being. Throughout her season of The Bachelorette, as she flip- flopped between her emotions about all the men, debated over whether or not to cut the seriously toxic Luke P and pulled a complete 180 and asked out runner-up Tyler C on the After the Final Rose special, Hannah was praised for *truly* following her heart, no matter how messy it might be. There's a reason they called her "The Beast!"—because she doesn't pull any punches, especially when it comes to her emotions and where her heart is.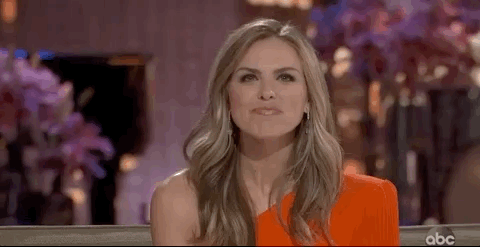 Especially because Harrison—and The Bachelor—obviously keep using Hannah B for ratings
And not only does this negative characterization of Hannah's previously praise-worthy traits feel like a unnatural pivot, it also feels exploitative; regardless of what Harrison says, the franchise is still capitalizing on Hannah (and her "train wreck" tendencies) to draw in viewers. Whether the Bach franchise likes it or not, Bach nation is still drawn in by Hannah B. Some love her and want to see her and her non-waterproof mascara fly into the sunset with Pilot Pete, and some aren't particularly fond of her and think she's milking her screen time for fame, but either way, they're tuning in to see what happens. And the franchise is betting on this. In a January 12 Entertainment Tonight interview with current bachelor Peter, Harrison and ET's Lauren Zima (who also happens to be Harrison's IRL GF), Harrison straight up admits that they brought Hannah back to host a date for the shock value, telling Zima of Hannah's appearance: "It was supposed to be fun; we said 'Oh, let's bring her back, it'll kind of shock everybody, but let's just send Peter on his way.'"
Let's just say it seems a bit shady to completely trash someone who you're simultaneously profiting off of.
Plus, the word "train wreck" is pretty loaded
Listen, I'm going to give the longtime TV host the benefit of the doubt and say that he probably wasn't intending to be malicious when he called Hannah a "train wreck." If his other comments are anything to go off of, it seems like he was trying to imply that she is a real person and, like real people, she doesn't have her life all figured out. And she doesn't try to hide that like a lot of people in the public eye. Which is very fair. But, there are *tons* of other, less loaded terms he could have used to get his point across. May I suggest "emotionally vulnerable" or "unfiltered"? Perhaps, like current contestant Madi, Harrison could have gone with "genuine and real." Or, maybe, he could have just straight up said: "Hannah is a real person and, like real people, doesn't have her life all figured out."
Read this next: This Bachelor Contestant's Eff Up Is a Lesson In Finsta Posting
Because, whether he intended it to be malicious or not, the word train wreck is *pretty* negatively loaded. According to good 'ol Merriam Webster Dictionary, the term can be used to describe (among other things, like a literal train crash), "an utter disaster or mess" and "source of trouble." It's a term that seems to solely be applied to women, and connotes someone unbalanced, who has gone completely off the rails.
It just feels like Harrison is capitalizing off Hannah's emotions
And honestly, at this point, it just feels like he's capitalizing off her emotions without thinking about the repercussions. Sure, it's kind of funny to retweet singer Jake Owens' diss track, but it's also important to remember that it's a very pointed song that pokes at some of Hannah's real experiences and essentially belittles her for trying to follow her heart and continuing to be authentic to herself. Sure, Hannah has herself joked about the track, but who knows how she actually feels or if it's actually hurtful to her? And the host calling Owens "my man" and engaging in this weird buddy-buddy bro thing with him, where they're essentially teaming up against Hannah and telling her to go home, just feels weird.
Who know, maybe Harrison doesn't even realize that what he's doing and saying is offensive. He does have super Big Dad Energy (NOT to be confused with #zaddy energy or BDE), and whose dad hasn't said something wildly but unintentionally offensive to them? Harrison's comments and tweets feel pretty akin to the one time when my dad casually asked "Hey, what's up with your face? Why's it all puffy?" in a Palm Desert Johnny Rockets restaurant, to which I promptly burst into tears because there was, in fact, nothing wrong with my face. I'd just gained weight and also happen to have robust cheeks (thanks to his side of the gene pool, mind you). I cried, dad remained perplexed, the end.
Read this next: Sharleen Joynt on The Bachelor Episode 1
But regardless of what his intentions were, Harrison's comments were pretty frickin' rude, and for that, he doesn't get our final rose.